Picking and choosing what home projects to tackle and what will remain on the "to do" list, is a common struggle that many homeowners wrestle with. For Lasha and her family, that decision became even more critical, as they pursued insurance options for their home. After conversations with their insurance provider, it quickly became clear that priority number one for the family would have to be repairs to their roof.
Lasha immediately set to work getting estimates for the needed repairs.
"I got three different estimates from three different companies, and all of them were well over $10,000!" Lasha said.
With four children to support, and her husband in school, the estimates that Lasha received were completely unrealistic for the family's already-tight budget.
After doing some research and hearing about the A Brush with Kindness program at an event at the University of Minnesota, Lasha decided to submit an application. Once her application was received, A Brush with Kindness staff scheduled a visit to Lasha's home to conduct a home assessment, in order to evaluate the projects and where A Brush with Kindness might be able to help. Work was then planned for August 2016, and Lasha's husband assisted with the repairs.
| | |
| --- | --- |
| | |
| Siding of home, before repair work | New roof and repaired and painted siding |
"My husband isn't really a handyman," Lasha said, "but they taught him how to do things and it was fun for him to be able to learn and help out alongside the staff and volunteers."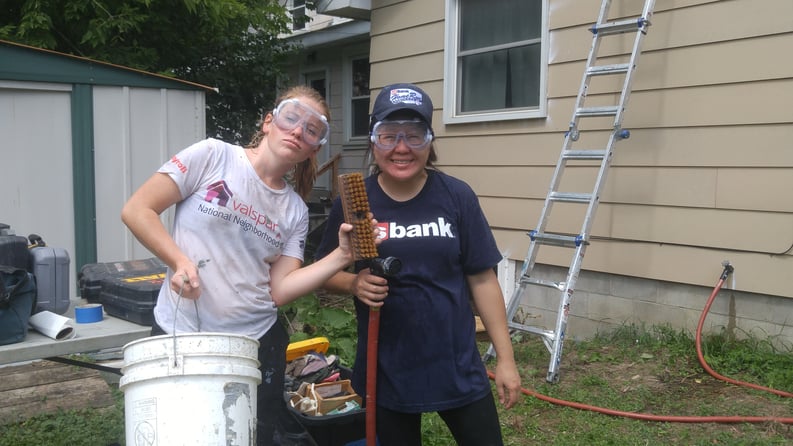 Since the roof and exterior work were completed, the family now feels safer and Lasha feels a sense of relief.
"It feels really good to walk into a home that is put-together on the outside," Lasha said. "This is my house. It's wonderful to have that sense of pride back."