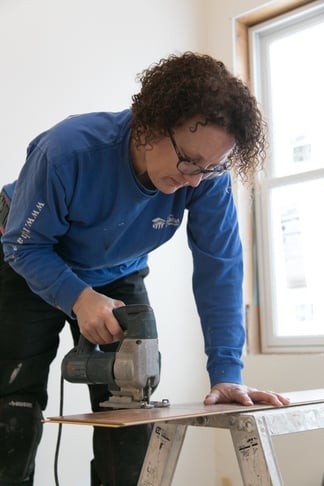 Cindy is a people person. She understands human behavior and recognizes that "we all have a story. Or two. Or three." In her job, Cindy listens to A Brush with Kindness homeowners' stories and works with them to write a positive chapter. As a Project Manager for A Brush with Kindness, Cindy conducts home assessments for homeowners seeking paint and repair services through Twin Cities Habitat for Humanity. She works with homeowners to understand their home repair needs, define the scope of the project, and guide them through the process. She assists the A Brush with Kindness site team by doing drawings for permits, securing permits, seeking contractor bids, and purchasing special-order materials for projects.
Cindy is compassionate and thoughtful. She recognizes that most homeowners she meets are in a tough part of their story—and she's grateful that she can be part of their turnaround. When Cindy conducts home assessments and defines the work scope alongside homeowners, she says "it's all about honoring them and their home. It's about respecting their space." Cindy reassures homeowners throughout the process and expresses enthusiasm for their partnership with Habitat.
Prior to taking on her current role in 2017, Cindy was a Project Supervisor for A Brush with Kindness, working on home repair sites, guiding volunteers through their daily work. Knowing that individuals have unique skills and motivations, Cindy would encourage groups to decide how they would divide up tasks and complete projects.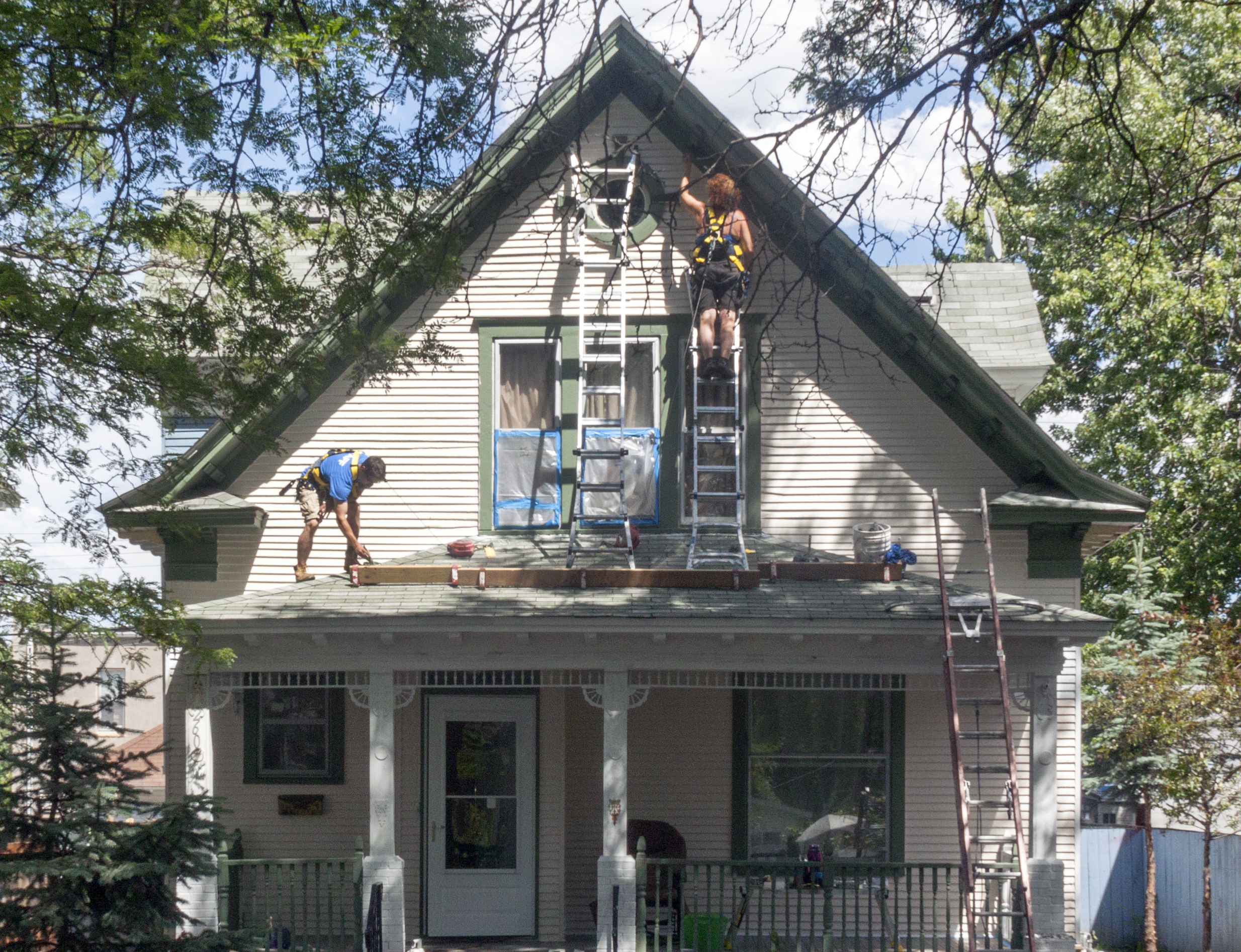 Cindy first joined Habitat as an AmeriCorps member in 2009. She was doubtful about the position when she first started, but now she looks back on it as the best decision she has ever made! During her time at Habitat, Cindy has participated in two Global Village trips to Costa Rica and is now preparing to co-lead a trip this spring to Dominican Republic.
Cindy loves working at Habitat, because she gets to "see God in action" and "be part of what He is doing every day." She also loves that each day presents a new puzzle with lots of moving pieces. Through her work, Cindy says that she's learned to be more adaptable and to "go with the flow."
Cindy feels blessed to have Mike Robertson as her supervisor and Mike feels equally blessed to have Cindy as a key part of his team: "Cindy and I have developed a great working relationship and friendship over the nearly eight years we've worked together. She is extremely dedicated to our homeowners, loves to learn new things and take on new challenges, and is constantly thinking about how we can improve our program for families."
Before joining Habitat, Cindy was a retail manager for furniture and household items. It was in that job that Cindy "arrived at the philosophy that we all should have a habitat that reflects us … A clean, safe place where love abounds."
Cindy says her mom instilled in her the value of education. She took that to heart and earned two degrees in design from the University of Minnesota.
Outside of work, Cindy loves to learn—through traveling, seeing new things, experiencing other cultures, meeting new people and taking more classes. She enjoys photography, cardmaking, and outdoor activities like camping, hiking, biking, and snowshoeing. Cindy and her husband have been married for 35 years and have two sons, 18 and 20.