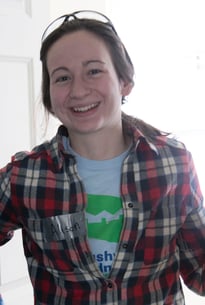 The week before Alison started her job at Twin Cities Habitat in 2015, she found something surprising at her childhood home in Indiana: a school project in which she described that she dreamed of working for Habitat for Humanity when she grew up.
Alison didn't recall that "dream" of hers, but now it is reality. Alison is a Project Supervisor with our A Brush with Kindness Paint and Repair Program. She brings to her role experience with critical home repair work, plus a ton of passion for serving others.
Since graduating from Goshen College with a degree in sociology, Alison has lived in Colorado, West Virginia, and now Minnesota. In Colorado, she completed a year of service at a day shelter for women. After that, she spent a year in West Virginia working with a critical home repair program. In those two roles, Alison worked with people at opposite ends of the housing continuum—first with those experiencing homelessness, and later with homeowners.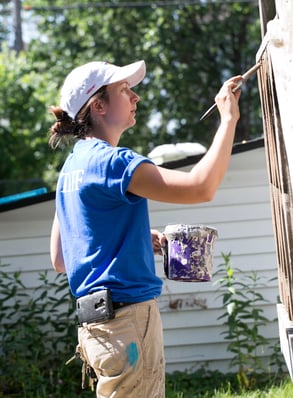 Her experience with home repairs paired with her interest in serving others made Alison a great fit for Habitat. When she was offered a seasonal role at Twin Cities Habitat in summer 2015, she moved to Minnesota with little connection to the area. Now, Alison's on staff full time and is settling into Minneapolis. Alison is drawn to affordable housing organizations because "it's hard to figure other things out when housing is in question."
A mission-driven person, Alison values the service and social justice components of her job. She is happy to have the opportunity to work alongside homeowners to complete needed home repairs. "It's really intimate to be in someone's home while they're living there," Alison shares, explaining the importance of serving people with dignity.
Alison also enjoys the constant problem solving required of her. She faces all kinds of unique challenges as she leads teams of volunteers to complete repair projects in older homes. But Alison has always had a natural desire to understand how to build things and use tools, so she welcomes the challenges, because they also present learning opportunities.
Alison appreciates working at Twin Cities Habitat, because she has a lot of support in her day-to-day activities—she can rely on colleagues to schedule volunteers, process homeowner applications, and repair tools, so she can focus on leading home repair projects.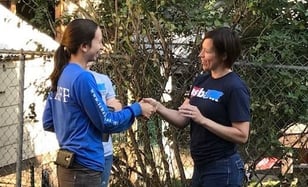 This past summer, Alison was honored with the U.S. Bank Proud to Serve Challenge Coin, serving as the group's site supervisor for two years.
When she's not leading volunteers, repairing homes, and interacting with homeowners, Alison enjoys baking, crocheting, and sewing.
To learn more about Twin Cities Habitat's paint and repair programs, visit our A Brush with Kindness webpage.