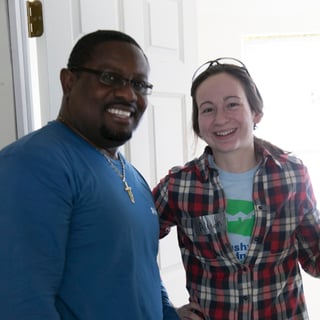 It takes everyone to make Twin Cities Habitat for Humanity's mission happen—homebuyer families, volunteers, donors, advocates—the list could go on and on. A key ingredient is Habitat's staff, and we're proud of the work we do with the community and the work environment we create together. Below are just a few things that make Twin Cities Habitat a great place to work.
1. It starts with the mission
Twin Cities Habitat for Humanity team members are motivated by our mission and live out our core values each day. In fact, according to our recent employee engagement survey, 95% of employees say the Habitat mission makes them feel their job is important. This was the highest-scoring statement on the survey.
Tim Jacobson, Director of Human Resources, explains it like this: "A key component to what makes Habitat a great place to work is the compelling mission. While every job has its good and bad days, working towards something bigger than yourself creates a shared sense of purpose and motivation for team members."
It's the little things that remind us of the greater mission—sharing a laugh with a volunteer on site, receiving the contents of a six-year-old's piggy bank as a donation, witnessing the delight when a child walks into their Habitat home for the first time.
2. A team that's engaged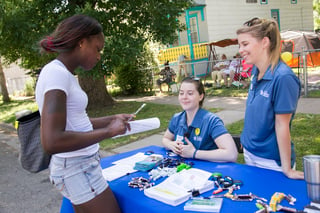 Our teams are collaborative and innovative. We're problem-solvers who balance self-direction with teamwork. We work hard on our own projects, and often go above and beyond because we care about the mission.
Since 2014, we've held an annual Employee Giving Campaign to encourage Habitat staff to give back in a variety of ways. Each year, we've had 100% staff participation—a rare feat. Just a few ways staff have engaged: donating a percentage of paychecks to Twin Cities Habitat, volunteering with a different department or different organization, advocating for affordable housing at the Capitol, and baking cookies for volunteers. In 2016, we pledged over $30,000 in donations and over 3,000 volunteer hours in the community!
3. A hiring philosophy of diversity and inclusion
Habitat for Humanity began at a place called Koinonia Farm in rural Georgia in the 1970s. It was a community farm where white and black people lived and worked side-by-side, sharing everything in a common goal. To reflect that history, we recently added a core value of Equity and Inclusion: We promote racial equity and strive to increase diversity, inclusion, and cultural competency in all aspects of our organization.
We recognize the challenges marginalized communities can face in the hiring process, and have developed a hiring philosophy of diversity and inclusion to make our hiring practices more equitable. We're continually working to make sure our value of Equity and Inclusion is reflected in everything we do. To that end, we're working with consultants and the Intercultural Development Inventory tool towards an even more inclusive Habitat.
4. Great benefits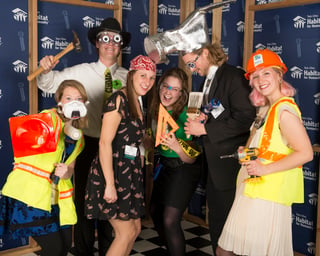 Twin Cities Habitat for Humanity cares deeply about employees. In our employee engagement survey, 91% of employees said their supervisor cares about them as a person—the second-highest scoring statement on the survey. We also offer a competitive benefits package; 80% of the team are satisfied or very satisfied with the benefits offered.
Like vacations? We land in the 90th percentile for our overall vacation offerings. And we're always adapting to address the needs of staff. For example—when the survey revealed that we weren't highly pleased with our 401k offering, leadership dove in and quickly offered a better plan.
5. Don't just take our word for it
There are many others who have recognized that Twin Cities Habitat for Humanity is a great place:
In March 2017, we were one of just 23 Habitat affiliates world-wide (out of 1,300 affiliates) recognized by Habitat for Humanity International as an Affiliate of Distinction
Twin Cities Habitat ReStore was recently recognized by the Minnesota Retailers Association, winning the top spot in the Social Responsibility category
The job-hunting site Indeed recently ranked Habitat for Humanity as a whole as the best nonprofit to work for on its inaugural nonprofit rankings list
Twin Cities Habitat and individual staff members are often recognized in the local community and nationwide for outstanding partnerships, innovations, and other unique awards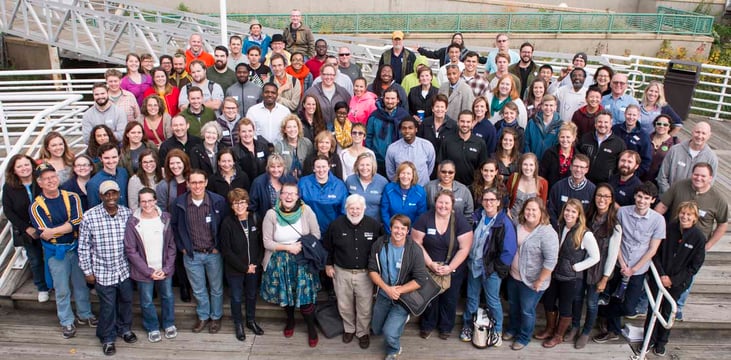 There are so many different career opportunities at Twin Cities Habitat for Humanity. We have team members who:
lead volunteer crews to build homes
process mortgages
guide families through one-on-one financial coaching
raise funds for the mission
…and so much more
We're expanding our work with our Impact 2020 strategic plan, so we're growing our staff too! Check out our career page if you or someone you know is interested in a fulfilling career with Twin Cities Habitat.