Great news! Twin Cities Habitat for Humanity recently introduced a new paid parental leave policy for employees.
Under this new policy, Twin Cities Habitat will provide up to 12 weeks of paid parental leave to employees following the birth of an employee's child or the placement of a child with an employee in connection with adoption or foster care.
The policy philosophy gets at the heart of why this is important:
"Twin Cities Habitat for Humanity is committed to the health and well-being of our employees and their families. Paid parental leave is essential for new parents to care for and bond with their child, maintain their income through a major life transition, and manage the stress and excitement of growing their family. This policy is designed to support the physical and mental health of our employees, attract and retain diverse staff, promote equity for all types of families, and set a bold example for other employers."
This policy applies to all eligible employees regardless of gender or family type.
Chris Coleman, President & CEO of Twin Cities Habitat, added his perspective on why this new policy matters:
"This new benefit provides a more equitable experience for all new parents and demonstrates our commitment to all our employees' health and well-being. We also hope it sets us apart as a nonprofit and leads the way to more employers providing paid leave."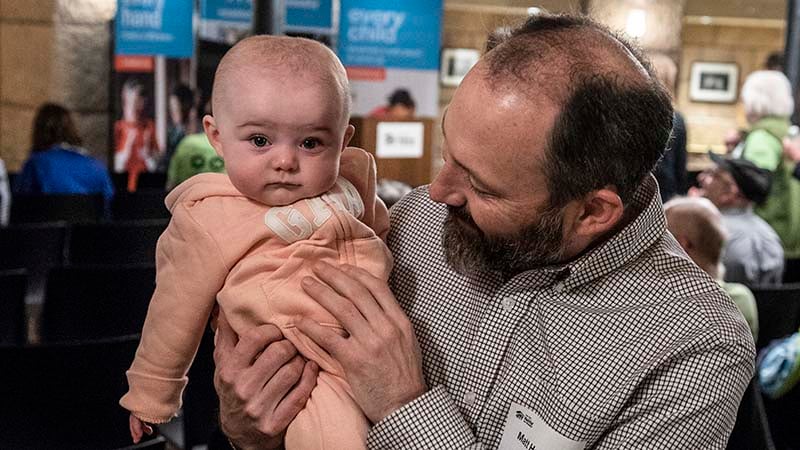 Policy details at a glance
So what does this look like for employees at Twin Cities Habitat? Here are the highlights:
Employees receive 100% of their regular pay and benefits during their leave
Full-time and part-time employees are eligible
The policy applies to employees who:

have given birth to a child,
have adopted a child,
are the spouse or partner of a person who has given birth to a child,
or have been placed with a foster child

Employees taking parental leave have the same level of job protection as would an employee taking an FMLA-qualifying leave.


Access to Paid Parental Leave is Limited Nationwide
Currently, only nine states in the U.S. offer (or will soon offer) paid parental leave: California, Colorado, Connecticut, Massachusetts, New Jersey, New York, Oregon, Rhode Island, Washington state, and Washington D.C.
The U.S. Bureau of Labor Statistics reports that approximately 24% of workers have access to paid family leave benefits. And while more Americans do have access to medical leave through short-term disability policies, these policies require a qualifying medical condition; they do not cover parental leave for parents who did not give birth. Furthermore, Black, Asian, and Hispanic workers are less likely than White, non-Hispanic workers to have access to paid family leave.
For most workers, having to take unpaid parental leave can have a significant impact on their finances and livelihoods. A February 2021 article by the Center for American Progress explains that adults ages 21-64 lose nearly $10,000 in wages after taking 12 weeks of unpaid leave, which is equal to about 58 percent of their quarterly income. For Black, Asian, and Hispanic families, the percentage of wages lost is even greater.
Build Your Career with Habitat
This new paid parental leave policy is just one of many great benefits of working at Twin Cities Habitat for Humanity. We're a passionate team of nearly 150 people committed to advancing racial equity in housing. If you're looking for a career that makes a difference in your community, browse our open positions, see more employment benefits, and sign up for Job Alerts.