Guest Blog by Robyn Lodahl, HR Coordinator, and Blake MacKenzie, Communications Specialist
It takes everyone to make Twin Cities Habitat for Humanity's mission happen—homebuyer families, volunteers, donors, advocates—the list could go on and on. A key ingredient is Habitat's staff, and we're proud of the work we do with the community and the work environment we create together. Below are just a few things that make Twin Cities Habitat a great place to work.

1. It starts with the mission
Twin Cities Habitat for Humanity team members are motivated by our mission and live out our core values each day. In fact, according to our recent employee engagement survey, 95% of employees say the Habitat mission makes them feel that their job is important. This was the highest-scoring statement on the survey.
Tim Jacobson, Director of Human Resources, explains it like this: "A key component to what makes Habitat a great place to work is the compelling mission. Working towards something bigger than yourself attracts amazing people and creates a shared sense of purpose and motivation for team members."
It's the little things that remind us of the greater mission—sharing a laugh with a volunteer on site, receiving the contents of a six-year-old's piggy bank as a donation, or witnessing the delight when a child walks into their Habitat home for the first time.
2. A team that's engaged
Our teams are collaborative and innovative. We're problem-solvers who balance self-direction with teamwork. We work hard on our own projects, and often go above and beyond because we care about the mission.
Since 2014, we've held an annual Employee Giving Campaign to encourage Habitat staff to give back in a variety of ways. Each year, we've had at or close to 100% staff participation—a rare feat. Just a few ways staff have engaged: donating a percentage of paychecks to Twin Cities Habitat, volunteering with a different department or different organization, advocating for affordable housing at the Capitol, and baking cookies for volunteers. In 2021, we pledged over $22,000 in donations and over 1,800 volunteer hours in the community!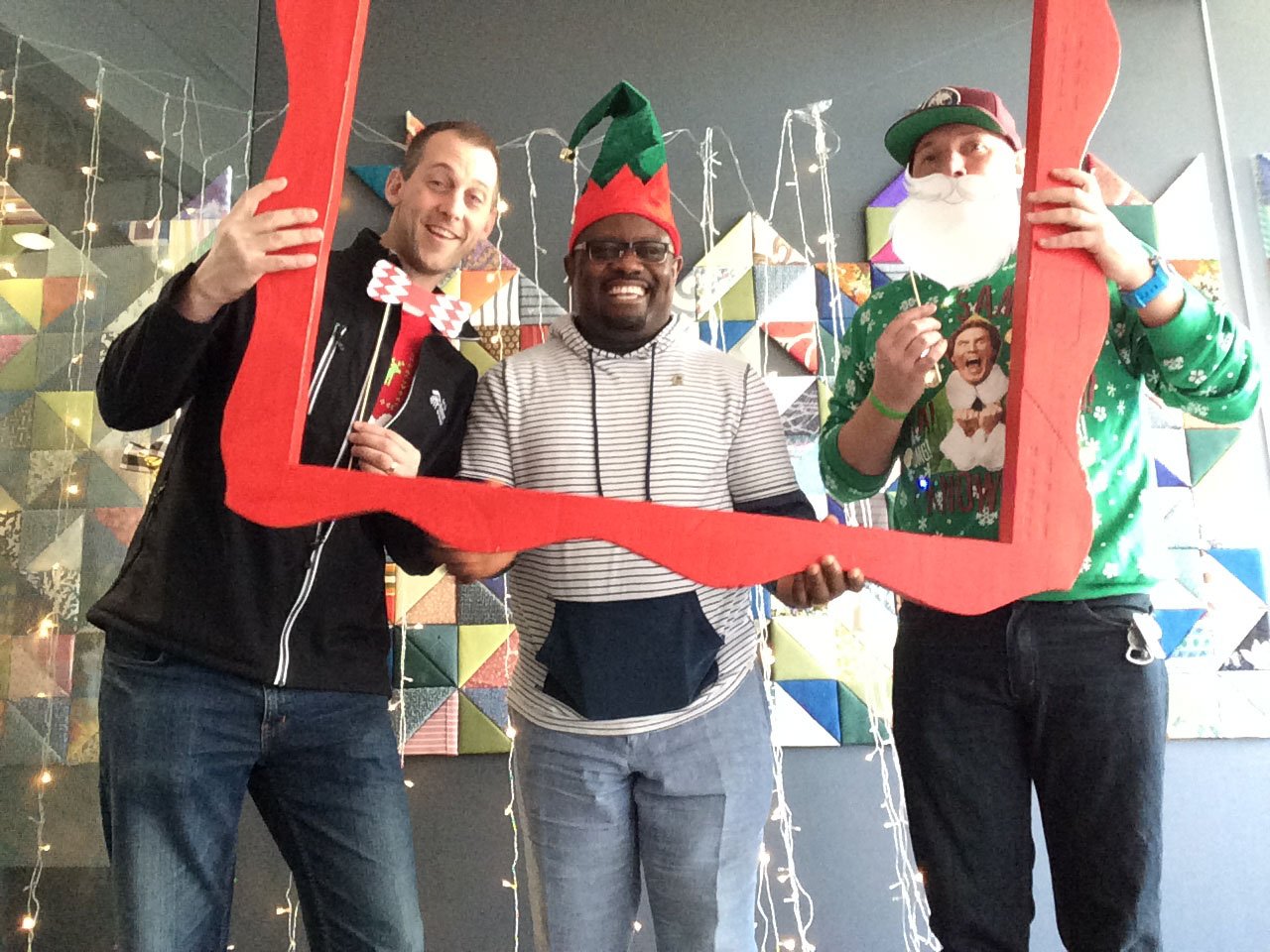 At Habitat we work hard and have fun, like when we come together for our annual holiday party.
3. A commitment to anti-racism and a mission to advance racial equity
Habitat for Humanity began at a place called Koinonia Farm in rural Georgia in the 1970s. It was a community farm where white and black people lived and worked side-by-side, sharing everything in a common goal. To reflect that history, we recently added a core value of being committed to anti-racism and have embedded racial equity into our mission. Together, we are working to evolve into an organization that advances racial equity in housing by doing what we do best – bringing people together.
We recognize the impact of systemic racism and the challenges marginalized communities can face in the hiring process. To help, we have developed a hiring philosophy of diversity and inclusion to make our hiring practices more equitable. We're continually working to make sure our value of anti-racism is reflected in everything we do. To that end, our new strategic direction includes closing the gap in homeownership for Foundational Black Minnesotans and creating a welcoming and equitable work environment where all people thrive.
4. Great benefits
Twin Cities Habitat for Humanity cares deeply about employees. In our employee engagement survey, 91% of employees said their supervisor cares about them as a person—the second-highest scoring statement on the survey. We also offer a competitive benefits package; 80% of the team are satisfied or very satisfied with the benefits offered.
Like vacations? We land in the 90th percentile for our overall vacation offerings. As a full-time employee, you would get 20 days of vacation a year—not counting the 9 paid holidays and your additional sick time. And we're always adapting to address the needs of staff. For example—when the survey revealed that we weren't highly pleased with our 401k offering, leadership dove in and quickly offered a better plan.
Twin Cities Habitat is deeply committed to the health and well-being of our employees and their families. On top of excellent medical and dental benefits, we recently announced a new policy that will provide up to 12 weeks of paid parental leave to employees following the birth of an employee's child or the placement of a child with an employee in connection with adoption or foster care. It's never been better to be a new parent at Habitat!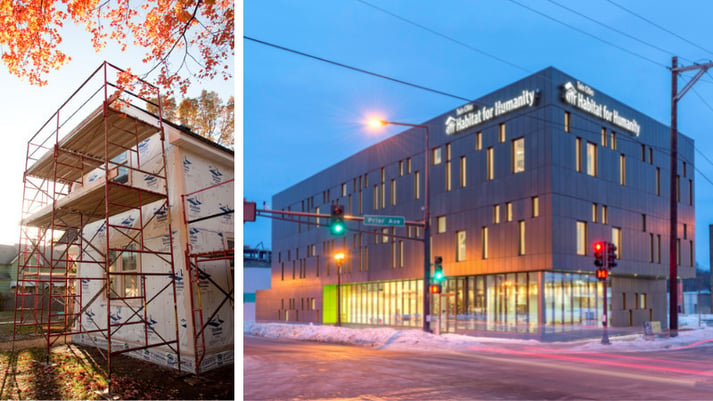 At Habitat, your workplace could be at our beautiful headquarters, on a build site, in a ReStore Home Improvement outlet or warehouse, or at your home office.
5. Flexible Workplace
Here at Habitat, we understand that work is one of many priorities in the balancing act of life. Flexibility can mean different things to each of us, and we realize the opportunity for flexibility may vary by each employee in accordance with their respective job duties. It is our goal to be understanding and promote flexibility in the culture of our organization—which could mean remote work and flexibility with your working hours.
Within a hybrid work environment, we uphold an organizational cultural emphasis in the following areas:
Empathy – Be kind to others and yourself. Listen. Be compassionate. Advocate. Be responsive to the needs of others.


Courage – Speak up. Ask for help. Be honest about the things that you need. Say what needs to be said.


Engagement – Show up. Be responsive. Participate. Take ownership. Include all voices. This is both more challenging and more important in a remote environment.


Mission Focus – We ask teams and individuals to carefully monitor, and communicate often, the observations of balancing hybrid work arrangements and overall client experience and impact. Adjusting and adapting as needed.


Communication – Strong communication is crucial in all facets of our internal and external work. It is also a necessary component in staying connected to your team and colleagues.
Twin Cities Habitat for Humanity is regularly hiring for positions across the organization. Check out our open positions, learn more about our benefits and hiring process, and come build your career with Habitat! You can also sign up for job alerts to get notified about new career opportunities.