By Lan Freitag
Leadership Giving Officer, Twin Cities Habitat

As I sat in a meeting listening to the fundraising challenges we were up against in the current fiscal year, I realized that Habitat was in the same place as many nonprofits: the need is far outpacing the resources available. I wanted to do something about it and I knew couldn't do this myself. Without much recruiting, I had a team of 8 co-workers volunteer to help me build Habitat's first employee giving campaign!

Our kickoff meeting consisted of us talking about the motivations we have for giving. Many of us talked about factors like sense of urgency/timeliness, volunteering and seeing/feeling the impact, peer-to-peer asks, and family/impact stories. We wanted to be sure we had many of those elements in our campaign; this was a great way to build our foundation and voice for the campaign.

We wanted the campaign to be light hearted yet meaningful. We wanted to give several options for any and all to participate in the campaign. After four planning meetings, seven all-staff emails…. we did it!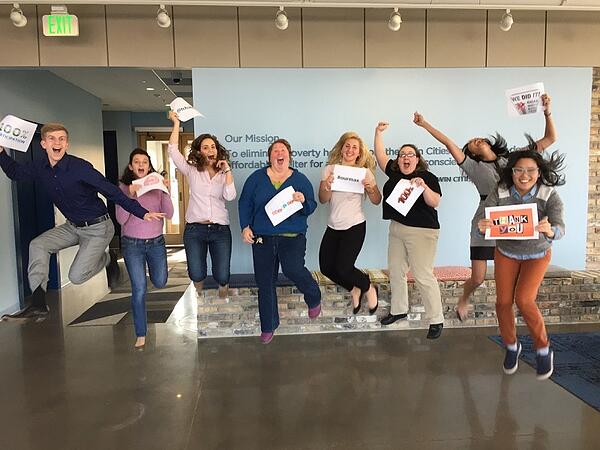 2014 Habitat for Humanity – Give to OUR Max Planning Committee (l to r), Blake MacKenzie, Sarah Harris, Kaitlyn Dormer, Wanda Coss, Kaitlyn Huntington, Chrissy Schoen, Lan Freitag, Shannon Eckman (absent: Kaela Reinardy)

Our staff REALLY rose to the occasion and 100% of our staff pledged their commitment to our mission and work through monetary gifts, volunteering on site and our ReStore, baking cookies for volunteers, be a home interviewers for potential Habitat homebuyers, advocating about affordable housing at Hab on the Hill, and attending home dedications. With numbers still rolling in, we've pledged over $19,000 and nearly 1,000 volunteer hours!
Twin Cities Habitat for Humanity staff responsibilities range from home building, project management, land acquisition, mortgage foreclosure prevention, A Brush with Kindness, we work with donors, companies, volunteers, youth, retirees, and serve hundreds of families every year through our programs. Behind the duties of our jobs, we are caring individuals and 100% committed to building a better life for our families and community.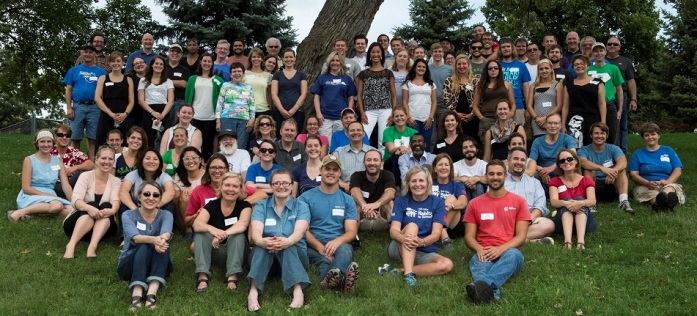 2014 Habitat staff picnic