Twin Cities Habitat for Humanity (TCHFH) engages with 17,000 volunteers every year who give 28,000 volunteer days to help families in our area. Behind the scenes, it takes a team of dedicated Habitat volunteer staff to make sure there are plenty of opportunities for people in the Twin Cities to help out. They, along with the majority of our TCHFH staff, volunteer with other non-profit organizations in the area, as a way to give back to our community.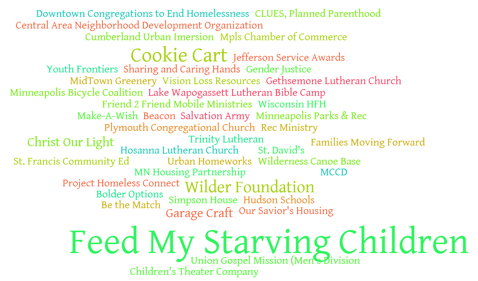 This year, during Twin Cities Habitat's annual
employee giving campaign
, staff pledged their time and money to help further our mission to support housing for all families.
In total,
staff pledged 1,045 volunteer hours and $25,330 in donations to Twin Cities Habitat for Humanity
. Many departments within our organization spend a day
volunteering on a homebuilding site
or at the
ReStore
as a way to complete the hours they pledged to Habitat. We also are proud to share that our employees have already volunteered, or are planning to volunteer, with 45 other local non-profits. (
List of organizations pictured right.)
So who are the faces behind these numbers? I sat down with members of the volunteer programs staff to learn why they feel it is so important to give their time.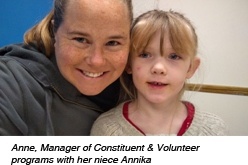 Anne Elliot-Thul is the Manager of Constituent and Volunteer Programs, and volunteers as a way to give back and spend time with her family. She spent the fall coaching her niece Annika's soccer team, "by spending that extra time doing something I love with those I love, I felt reenergized in other parts of my life."
Besides coaching for her niece, Anne introduced her to volunteering with people experiencing homelessness at Our Savior's Housing. The organization located in Minneapolis, provides shelter, support, and resources to help those in need.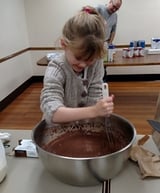 "My niece, Annika recently asked me how she could help build houses for people who live on the streets. I talked to Annika about what it meant to be a volunteer and then asked her if she would want to volunteer with me to make a meal for the homeless people staying at Our Savior's Housing. When it came time to serve, Annika proudly and respectfully served every person a piece of cornbread. We got to talk to a couple of residents there about their day and about the upcoming holidays. We then cleaned up. Annika wiped down every table and swept every inch of the floor before we said our goodbyes. When we went to bed that night, Annika said she wants to volunteer there again and other places and next time, she wants to bring the whole family."
Another member of the volunteer staff, Julia Brauchle, Constituent Management Assistant Intern, volunteers at CLUES (Spanish for: Comunidades Latinas Unidas en Servicio). Julia began volunteering as an income tax preparer and helped families in the Latino community file income taxes.
"Many families were not aware that they were eligible for certain tax credits, so it was easy to make a huge impact on a household's finances very quickly." She continues to volunteer as a preschool teacher while parents take ESL classes and hopes to volunteer preparing taxes in 2016.
Volunteering outside of Habitat has made working with volunteers more meaningful for our staff. We understand that our volunteers who help on home builds, at A Brush with Kindness projects, at the ReStore or in the office are a critical part of the work we do to live out our mission.
We believe that volunteering strengthens our community, and because of that belief, many departments at Habitat plan a volunteer day outside of our organization. Recently, the field staff volunteered at Feed My Starving Children and the Resource Development department volunteered at the Cookie Cart to give back and bond as a team. The value of a volunteer to Twin Cities Habitat is unmeasurable. That is why we enjoy giving back to our community, volunteering and paying it forward!