The saying great minds think alike rings true with the new home repair collaboration being hosted by Twin Cities Habitat.
For the past year, Twin Cities Habitat staff has joined other local nonprofit and lending organizations in discussing and developing a new collaboration that will effectively connect homeowners with home repair services and related lending resources. Agencies such as Rebuilding Together Twin Cities, Neighborworks Home Partners, Community Action of Suburban Hennepin County, and the City of Minneapolis' Homeowner Navigation Program are partnering in this initiative, hosted at Twin Cities Habitat's offices. Although these programs have differences, they ultimately share the goal of creating better, healthier, safer environments for families.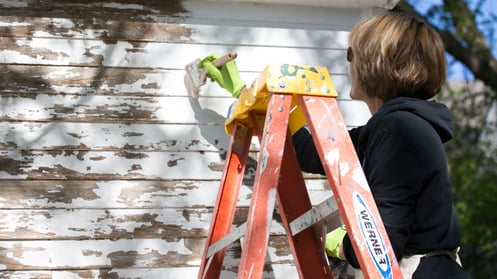 "There were enough folks doing home repair work and it made sense to put together regular meetings to share ideas and changes so we can be more effective as a group", said Mike, Construction Program Manager for A Brush with Kindness.
The group comes together to share updates on their programs and talk through possible solutions and ways to support each other. For example, Rebuilding Together discussed their increase in building ramps. Both Rebuilding Together and Habitat are available to do ramp building and maintenance, which is helpful for the other agencies to know so they can send requests in the right direction. Another great example of the collaboration was the discussion around the change in weather. Rebuilding Together Program Director, Tony Sjogren, pointed out the need in assistance with heater repairs, "When the weather is changing, the phone calls increase." He turned to the Center for Energy and Environment representative, and asked "When someone's furnace doesn't work, should they call you?" With a quick "yes" the definition of collaboration was brought to life.
The group would like to develop a shared application for home repairs, a resource list, and tools for advocacy at the local and state level. Mike would love to see more people at the table, "I encourage people working in this space to join. I think all of us recognize the value of collaboration."
The group invites agencies that do similar work to join us for bi-monthly meetings.
Please email Mike Robertson at mike.robertson@tchabitat.org if your organization is interested in joining the home repair program collaboration.