Originally published November 20, 2020. Updated to reflect additional new board members and a new Executive Committee.
The Board of Directors at Twin Cities Habitat for Humanity welcomed Ralph Pace and Eric Skalland in February 2021, joining a cohort of five others who began their terms on the board in late 2020. The new cohort joins the board as we weather the challenges of COVID-19, hone our organization's focus on racial equity, and build a new strategic plan.
The Board also appointed new leaders to the Executive Committee in February:
Nikki Sorum, Senior VP, Thrivent Financial, began her term as Board Chair
Sharon Sayles Belton, Vice President, Government Affairs and Community Relations, Thomson Reuters, began her term as Vice Chair
Mitch Bleske, EVP & Chief Financial Officer, Bremer Bank, continues his service as Treasurer
Keiko Sugisaka, Partner, Maslon LLP, continues her service as Secretary
The newest board cohort includes:
Anne Behrendt, President and Chief Executive Officer, Doran Companies
Bill Gould, Senior Vice President, Affinity Solutions, Securian Financial
Bob Israel, Vice President, Global Sustainability, The Sherwin-Williams Company
Cole Miller, Vice-Chairman, Shakopee Mdewakanton Sioux Community
Ralph Pace, Executive Vice President and Central Region Manager, U.S. Bank Commercial Real Estate
Michelle Robinson, Vice President of Business Development, Advocate Aurora Health Systems
Eric Skalland, Executive Vice President and Chief Financial Officer, United Properties
"We are thrilled to welcome the newest members to our Board of Directors," said the new Chair, Nikki Sorum. "I'm constantly inspired by the level of talent and commitment on the Twin Cities Habitat Board."
More About the Newest Board Members
Anne Behrendt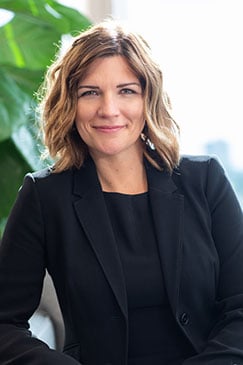 Anne Behrendt is the President and Chief Executive Officer of Doran Companies, one of the leading commercial real estate companies in the upper Midwest and a trusted leader in development, architecture, construction, and asset management.
Setting Doran Companies' strategic direction and overseeing an executive leadership team of eight, Anne is responsible for ensuring the development-led company is well positioned to maintain its competitive edge and continue its strong growth trajectory. Since Anne joined the company almost 10 years ago, Doran has grown from 25 to approximately 300 employees, expanded to include an office in Denver, CO, developed, designed, or built dozens of luxury multi-family and mixed-use projects, managed millions of square feet of commercial space and luxury residential communities in some of the most exclusive neighborhoods throughout the Midwest, and secured $1 billion in business.
Named a "Business Titan and Top Person to Know in 2020" by Twin Cities Business Magazine, a "Twin Cities Power Woman" by BisNow, one of the Minneapolis-St. Paul Business Journal's "40 under 40," as well as one of the top "Women in Business," and presented with a "Best Place to Work Leadership Award" by the Star Tribune, Anne is held in high esteem by Doran employees and industry peers and partners. A native Minnesotan, Anne received her B.A. from the University of Wisconsin-Madison and her J.D. from the University of Minnesota Law School. She lives in the Twin Cities with her husband and two children.
Bill Gould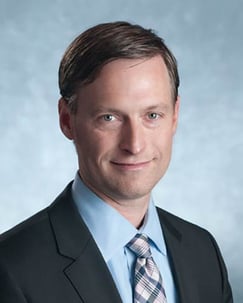 Bill Gould is Senior Vice President, Affinity Solutions at Securian Financial. Bill manages Securian's Group Insurance and Financial Institution Group businesses. He oversees sales, business development, financial management, strategic planning, marketing, compliance, and operations. He is also responsible for the financial institution insurance business in Canada.
Bill has over 25 years of insurance industry experience and started his career at Securian Financial in 1995. He has expertise in financial analysis, mergers and acquisitions, product development, strategic planning, and risk management. Additionally, Bill has extensive knowledge of individual life insurance products, broker dealers, affiliated distribution, individual annuity products, and corporate functions.
Bill earned a Bachelor of Science in accounting and a Master of Business Administration in strategy and finance, both from the University of Minnesota Carlson School of Management. He is a Certified Public Accountant, a Certified Management Accountant, and a Life Management Institute Fellow.
Bob Israel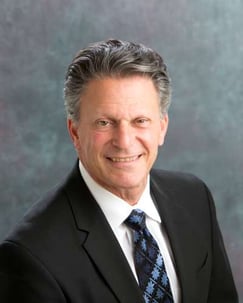 Bob Israel, PhD, is the Vice President of Global Sustainability & Advocacy at The Sherwin-Williams Company.
At the time of the Valspar acquisition, Bob served as Vice President, Global Product Stewardship since 2011 and briefly led the Valspar Foundation and its relationship with Habitat for Humanity. Prior to Valspar, Bob spent 14 years at Diversey as Vice President of sustainability and stewardship programs. Bob has also held positions at the U.S. Environmental Protection Agency and as a regulatory consultant to the chemical industry.
In his career spanning more than 30 years, Bob has played strategic roles in the area of corporate sustainability, product stewardship, and regulatory affairs. In these roles, he has focused on continuous improvement and being a change agent for the companies he's worked for. He serves as an advisor to organizations such as the Sustainability Accounting Standards Board (SASB) and the Green Chemistry in Commerce Council (GC3), leveraging his experiences in sustainability reporting and green chemistry respectively.
Bob earned his Bachelors degree in Chemistry from SUNY at Oswego, NY and a PhD in Organic Chemistry from the University of Delaware. He and his family reside in Minnetrista, Minnesota.
Cole Miller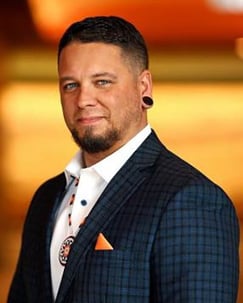 Cole Miller is serving his first term as Vice-Chairman of the Shakopee Mdewakanton Sioux Community (SMSC), a federally recognized, sovereign Native American tribe located southwest of Minneapolis/St. Paul, Minnesota. As a member of the SMSC Business Council, he oversees the day-to-day operations of the tribal government and its relationships with its members, other governments and elected officials, and its more than 4,000 employees.
Before becoming Vice-Chairman, Miller served as the community liaison for Mdewakanton Public Safety, the tribe's full-time fire department, paramedic-level ambulance service, and emergency management organization. He has been active in the Community for many years, including chairing the tribe's Wacipi Pow Wow Committee.
Vice-Chairman Miller enjoys spending time with his wife and three sons.
Ralph Pace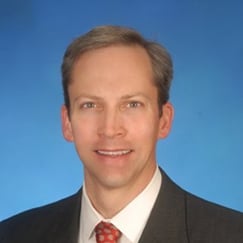 Ralph Pace is Executive Vice President and Central Region Manager for U.S. Bank Commercial Real Estate. Ralph is responsible for multiple Commercial Real Estate offices and the Real Estate Structured Finance group. Ralph has been with the Commercial Real Estate group at U.S. Bank since 2008. Prior to joining U.S. Bank, Ralph spent 13 years specializing in Commercial Real Estate Banking in New Orleans. He began his career in banking in 1993.
Ralph graduated from Louisiana State University with a BS in Finance and an MBA. Ralph is also a graduate of the Pacific Coast Banking School program held at University of Washington. Ralph has served on numerous Boards, including with Habitat for Humanity of Metro Denver.
Michelle Robinson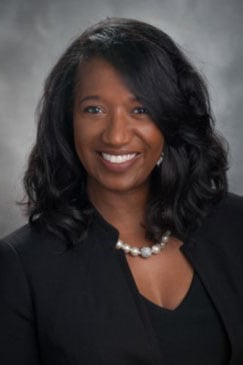 Michelle Robinson is Vice President of Business Development for Advocate Aurora Health Systems. She is responsible for growing over $4 billion Gross Revenue for the South Chicagoland Patient Service area.
Prior to joining Advocate Aurora Health, she served as the President of Heartland Blood Centers, which provides blood to more than 75 hospitals in the Greater Chicagoland area. Michelle has held Global leadership roles with Covance, Baxter Health, and GE. In those roles, she successfully designed and led strategic plans yielding positive margins and improved efficiencies along with creating highly engaged workforces.
Michelle is a certified Master Black Belt in Quality, has a BS in Industrial Engineering from Purdue University in West Lafayette, IN, and an MBA from Northwestern University Kellogg in Evanston, IL.
She serves on the Advocate Trinity Physician – Hospital Organization Board, Tinley Woods Surgery Center Board, and on the Chicago Leukemia and Lymphoma Society Board. She is married to Pastor Jon Robinson M.Div., who is the Head Pastor of St. Peter's AME Church in Minneapolis. They work together, loving God, loving each other, and loving God's People.
Eric Skalland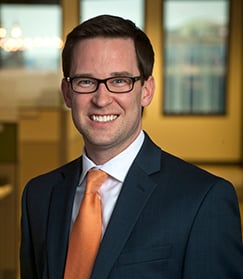 Eric Skalland is Executive Vice President and Chief Financial Officer for United Properties. Eric is responsible for leadership and oversight of all United Properties' financial activities, is a member of the executive team and investment committee, and is chair of the United Properties Charitable Giving Committee.
Eric joined United Properties in 2007 as an assistant controller and was promoted to controller in 2010. He was promoted to chief accounting officer and vice president in 2014. Prior to joining United Properties, Eric held positions at CBS Radio, Inc. and Grant Thornton.
Eric holds a BS in accounting from the University of Minnesota Carlson School of Management and is a Certified Public Accountant. He has served on numerous community Boards and committees, including Twin Cities Habitat's Multiplying the Impact Campaign Council.
Check out a complete list of the Twin Cities Habitat for Humanity Board of Directors.