Guest Blog by Mike Robertson,
A Brush with Kindness Program Manager
Twin Cities Habitat's A Brush with Kindness home repair program provides critical home repairs to low-income homeowners. It's a vital program that preserves homeownership for those who might not be able to on their own. But COVID-19 forced us to pause interior work on owner-occupied homes. Our A Brush with Kindness field staff were temporarily re-assigned to work on new construction, lending their knowledge, experience, and dedication to create new affordable Habitat homes in North Minneapolis. (Despite the disruption, the A Brush with Kindness team got a lot done in 2020. Read more here.)
Any disruption in our home repair work is significant. Our A Brush with Kindness clients are a "hidden" population: low-income homeowners struggling to afford and maintain the homes they love. Most families are earning 30% or less of Area Median Income—about $30,000 for a family of four. They would likely never be able to afford a home today, so if they lose their home they might never own a home again.


Last year was one of the most difficult years for Amber. On top of mounting home issues, her eldest daughter had a medical emergency and passed away. The A Brush with Kindness team fixed her bathroom ceiling and removed mold (above), added risers to stairs and replaced damaged deck boards, repaired a leaking sump pump, repaired window and siding trim, and more during this difficult time. Read Amber's story here.
Many are older adults living on a fixed income. Many are single parents struggling to afford their mortgages and maintain their homes while caring for their children (especially with the additional challenges of balancing distance learning with employment). Some are military veterans with a variety of physical and mental health challenges.
There's a racial equity component to our work as well. As we work hard to reduce racial disparities in homeownership, creating more homeownership opportunities for BIPOC (Black, Indigenous, and People of Color) Minnesotans is essential. But it's equally crucial that we preserve affordable homeownership for families of color as well. When we preserve homeownership for our BIPOC clients, it allows them to pass along the generational wealth and stability that owning a home provides. Our client base reflects statewide statistics for homeownership, with about 30% of our families being households of color. And it's our priority to continue expanding the racial diversity of families who partner with us.
In addition to performing critical home repairs, we connect personally with our clients, lend a listening ear, and refer them to additional trusted resources where appropriate. (It's called A Brush with Kindness for a reason!) In every case, the home our clients live in currently is the most affordable option for them. And in too many cases, deferred maintenance can lead to serious health and safety issues, citations, and even condemnation of the property leading to homelessness. As the COVID crisis drags on, the backlog of clients grows and unaddressed repairs only become more challenging, increasing the risk of foreclosure.
The A Brush with Kindness program is one of a handful of resources available to low-income homeowners in need of assistance, and the need is much greater than the capacity to meet it—with or without COVID. Twin Cities Habitat's 2021 legislative agenda starts to address this issue. We're asking for an increase from $27,000 to $40,000 in the maximum loan amount low-income homeowners can secure through Minnesota Housing Finance Agency's Rehab Loan Program. Construction costs are skyrocketing, and expanding the maximum loan amount will better cover construction labor and material costs and stabilize homeowners with significant repair needs. This would be a good boost in our ongoing effort to preserve affordable homeownership and assist homeowners with making the critical repairs they need to preserve their greatest asset.
We're excited that the Minnesota State Legislature is recognizing the importance of supporting existing homeowners as a key component of racial justice. The House Select Committee on Racial Justice included "Increas[ing] home improvement support for both owner-occupied homes and rental properties" as a recommendation in its Report to the Legislature. That's an important step in recognizing the importance of A Brush with Kindness and other home repair and lending non-profits in the affordable housing ecosystem!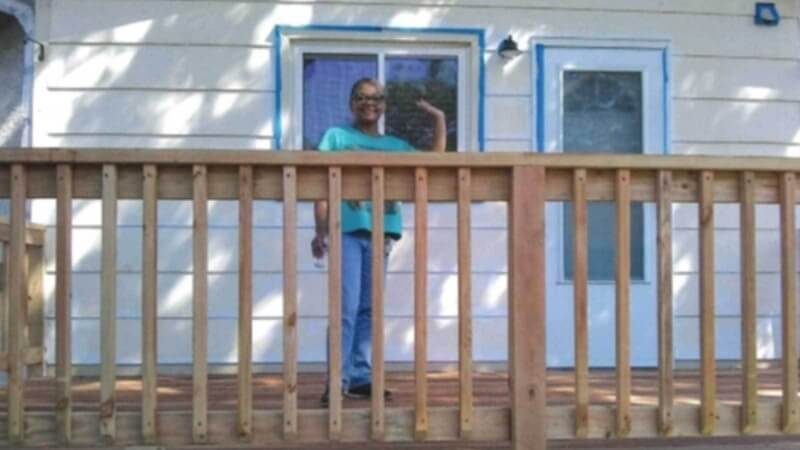 "Now my home feels like a home," Nevonne said after the A Brush with Kindness team completed critical repairs on her home last year. Read Nevonne's story here.
But there's more work to do. I invite you to help support our work preserving affordable homeownership and preventing homelessness. You can make a donation today and sign up to be part of our Advocacy efforts.