Since the A Brush With Kindness (ABWK) program first launched in 1998, the staff, partners and volunteers have had one goal in mind: to help Habitat for Humanity extend its mission beyond first time homebuyers, to make sure decent affordable shelter is able for all. It wasn't long after the program launched in the Twin Cities that other affiliates began to start home repair programs of their own.
"It's clear that the lack of affordable housing isn't a problem we can build our way out of solely with new housing units. Many of the low income families we serve through ABWK have purchased and maintained their homes for years, only to have an illness, job loss, or other circumstance put them at risk of losing the stability that owning a home provides," said Senior Project Supervisor Mike Robertson.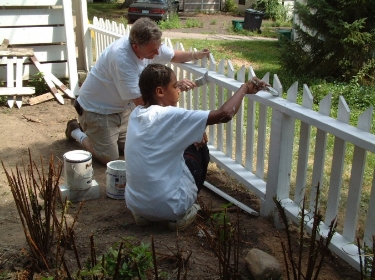 Once it has been determined that a family meets the eligibility requirements of ABWK, and has been accepted into the program, families are then expected to partner with Habitat in the completion of the work performed on their home. This partnership can look very different from Habitat's Homeownership program, which requires the buyers to commit to a certain number of sweat equity hours as a down payment on their home. People applying to the A Brush With Kindness program can come from a variety of different situations with varying physical and mental capabilities, that could make such a commitment impossible.
Forty percent of the households ABWK serves are disabled or elderly, which can make physically work alongside staff and volunteers in and outside of their home a challenge. ABWK has created a variety of unique ways for homeowners to partner with the program. The simplest, yet most beneficial way of partnership is sharing their story. Homeowners are encouraged to share their story with neighbors, family and friends to help spread the word about ABWK and what the program has to offer their community.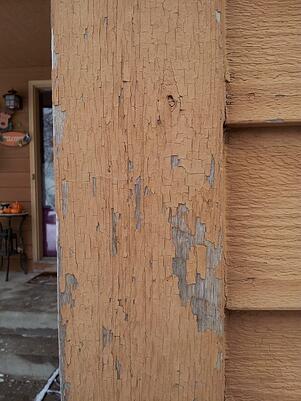 Two other ways that families partner with ABWK are through "Do It Yourself Support" and "Work Alongside" opportunities. Families that select the "Do It Yourself" partnership option provide all the labor for the needed repairs, often times recruiting friends, family and neighbors to help. The A Brush with Kindness program then provides the materials and expertise needed to complete the repairs. Connie is the mother of two teenage children, and is one of the homeowners that opted for this partnership opportunity this year. She knew the family desperately needed a new roof, as their existing roof would not be able to withstand another long Minnesota winter. Since Connie is currently undergoing treatments to battle cancer, this project was financially unfeasible for the family at this time but Connie did know of someone that could help her with getting the work done if she could find the resources. Thanks to the resources ABWK was able to provide, Connie and her family now have a new roof over their heads, and Connie hopes to volunteer with ABWK and Habitat for Humanity when she has fully recovered.
Another option is for families to work alongside ABWK staff and volunteers to complete the project. The homeowner and all able-bodied adults living in the home are required to work on their home each day that staff and volunteers are working on the home. Earlier this summer, Francisca and her family worked alongside ABWK staff and volunteers to scrape, prep, prime, paint, and reside one side of their Twin Cities home. Francisca's home serves as the "hub" for the multi-generational family, and they appreciate the repair assistance they've received from ABWK to make their home safe.
"Every day Francisca and her kids would be out with the volunteers" said Project Supervisor Doug Hayden.
Since every family's abilities and situations are different, ABWK tries to find ways for families to work with staff and volunteers to help get the work completed. For families that have special circumstances that do not allow them to perform the work themselves or work alongside staff and volunteers, there are additional opportunities to partner with the program. Homeowners, with the help of family members and/or friends are encouraged to perform designated tasks to help prepare for the work on their home, or, can volunteer on a Habitat/ABWK project if their schedule does not them allow to assist during the day(s)/week that their repair work will be performed.
Regardless of the option a family chooses, all ABWK partner families are expected to maintain a friendly and welcoming home, and be helpful and courteous to all Habitat staff and volunteers working on their home. Some homeowners go above and beyond, leaving little notes of their appreciation: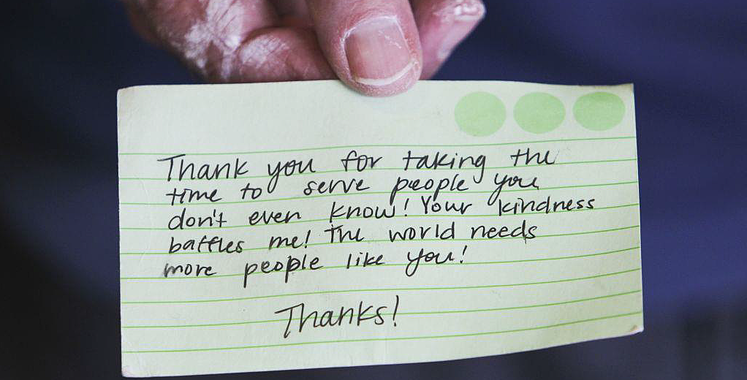 "Giving all our homeowners, regardless of their situation, an opportunity to partner with A Brush With Kindness, is empowering them to give back, become more educated, and regain pride and stability in where they live," said Kelly McDermott, former AmeriCorps member and Family Resources Assistant for ABWK.
Do you know someone in need of A Brush with Kindness? Share this post with them or learn more about the program by clicking on the banner below.
Written by Kelly McDermott and Becky Engen