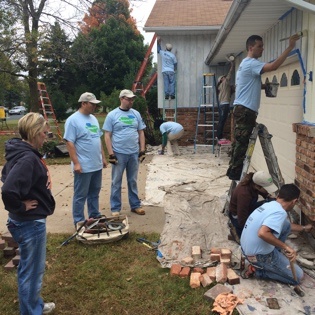 On a crisp, autumn day in late September, volunteers from the law offices of Maslon LLP and Valspar Corporation teamed up to provide much needed home repairs for Mary Kay Arnold during Habitat for Humanity's national A Brush With Kindness (ABWK) Week. Arnold has been living in her home in Andover since 1982. The volunteers repaired the exterior siding and brick veneer, stained the back deck and provided the entire home with a fresh coat of paint. Not bad for a day's work!
For Mary Kay, 62, a single woman who had proudly maintained her own home for the past 30 years, a recent health crisis meant she could no longer work full-time. With her income slashed in half and medical bills to pay, she couldn't fix the crumbling brick and peeling paint on her home.
Offering help at no cost to the homeowner, ABWK ensures that low-income households have safe and well-maintained homes. Over 400 Habitat affiliates across the country have replicated this program; this project was actually completed during National A Brush with Kindness Week, in which 153 families received ABWK services across 24 states.
At Mary Kay's home in Andover, employees from Maslon and Valspar – longtime business partners – worked side by side. "After years of working together in board rooms and on conference calls, this was a great opportunity for our employees to get to know the Maslon team outside of the office while also making a meaningful investment in our community," said Kevin Olson, Manager of Corporate Communications with Valspar.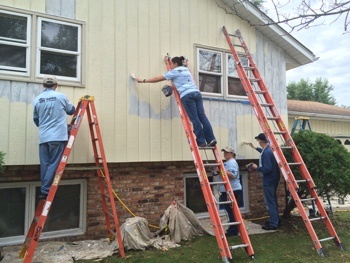 The crew certainly appreciated the fraternization, but make no mistake, they were there to work. Marty Rosenbaum, a Partner with Maslon, was impressed with all they accomplished. "The results were very satisfying. It was fun to see the house's exterior transformed and to see the homeowner's thrilled reaction. One of our team members observed a group of school children getting off the bus that afternoon. They were looking at the house, craning their necks to see the obvious change in one day."
Innovative partnerships like these make the work we do possible. Maslon and Valspar are both longtime supporters of Twin Cities Habitat and their commitment to the community is evident both in and out of the workplace.