This summer Twin Cities Habitat for Humanity is going to hit a milestone. Volunteers and staff will make repairs and help restore the 1,700th Twin Cities home through the A Brush with Kindness (ABWK) program. Three special people deserve extra recognition for all they've done to grow this program over the years: Gwen Leifeld, Dick Seitz and Pat Lund. All three have been a part of ABWK since the beginning.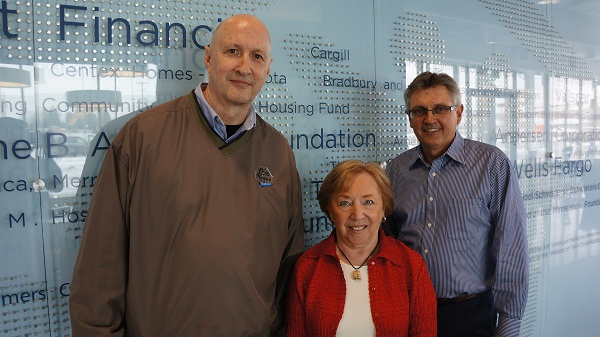 It all started in 1998, when Pat was working for Metro Paint-A-Thon in Minneapolis and both Gwen and Dick were mid-way through their careers at Valspar, a global leader in paint headquartered in Minneapolis. (Side note: Valspar is the official paint supplier for Habitat for Humanity and has donated 1.5 MILLION gallons to support Habitat's work around the world!)
"Valspar met with Stephen Siedel (Executive Director of TCHFH in 1998) and you kind of saw this light bulb go off," says Gwen. Gwen had been involved with Habitat through the Women Build program and was key in getting the partnership with Valspar launched. Valspar and TCHFH started a pilot program to test the idea of doing repair work and offer painting help for struggling low-income families.
They hired Pat to run ABWK. "At the time, Habitat for Humanity was only building homes," says Pat. "But we saw a community need that wasn't being met."
Dick and Gwen were instrumental in making the program a success. They trained Team Leaders who then oversaw their own ABWK sites. "They set the standards for how we run a site right from the very beginning," says Pat. They were so organized that ABWK was able to paint and fix 64 homes that first year. After that, there was no turning back.
Dick has personally volunteered on dozens of ABWK projects over the years. "I like to paint," says Dick. "I really do enjoy it. I liked using our product to help families and encourage the beautification of entire neighborhoods. Little things like this go a long way."
Good ideas are hard to keep secret and it wasn't long before the leaders at Habitat for Humanity International were closely watching the success of ABWK in the Twin Cities. In 2007, Pat, Gwen and Dick began helping other Habitat affiliates start repair programs of their own. Their first opportunity was during the Jimmy & Rosalynn Carter Work Project in Los Angeles that year. The trio helped volunteers pull off 70 repair projects during the Carter Work Project week (plus they all got to meet the former President).
Over the next few years, Dick, Gwen and Pat made trips to several other cities to help other Habitat affiliates launch repair programs. Today over half of Habitat affiliates in the country perform repair work for existing low-income homeowners along with their traditional homebuilding programs.
By adding repairs to the existing homebuilding that Habitat is best known for, Habitat volunteers interested in creating safe, decent housing can now help many more families each year. In fact, all the repair work that's done now by Habitat is part of why the organization has shifted from focusing on homes built to families served.
Now both Gwen and Dick are easing their way into retirement from Valspar. Dick, who worked for the company for 35 years, has cut back to part time. He's getting in more golf and getting to babysit his granddaughter. He's also staying connected to Habitat and continuing to volunteer when he can.
Gwen was with Valspar for 30 years and continues to work part time for former Valspar CEO Angus Wurtele. She plans to continue her involvement with Habitat, and will be volunteering on the annual A Brush with Kindness/Valspar project.
Dick, Gwen and Pat are all humble people, but they do have a sense for just how important the thing they helped create has become for families across the country.

"In my wildest dreams I never would have imagined that it would have grown this large," says Gwen.