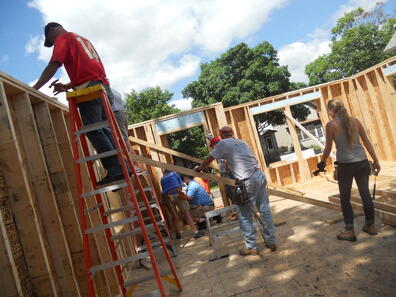 Not too long after the Charles Schwab volunteers starting erecting walls at the Sherburne Avenue build site in St. Paul, a neighbor passed by praising them for their good work.
"She was all smiles," said one volunteer. "She said she was a Habitat homeowner herself and to keep doing the good work."
That's the lasting impact a Twin Cities Habitat for Humanity home has on someone, and on the community. That's why volunteers from Charles Schwab came back to build for a second year.
"It's pretty amazing to know that this will be someone's home soon," said Todd Wilson, Senior Marketing Manager for Charles Schwab and the day's build leader. "In a few months a family will be setting up shop here and throwing down their anchor. That's something great to get to be a part of. I get goose bumps just thinking about it!"
Charles Schwab's Advisor Services regional office in Minneapolis and four surrounding retail branches banded together to volunteer for the day.
Last year, a smaller group of Schwab employees decided to volunteer with Habitat for the first time, Todd explained. But after hearing about their rewarding experience, additional employees from the local retail branches wanted to lend a hand as well. This year, Schwab's build team was 16 members strong.
"We had so much fun and it was so rewarding last year, we decided to do it again this year," he said. "The physical work, the sweating together as a team, it builds stronger relationships."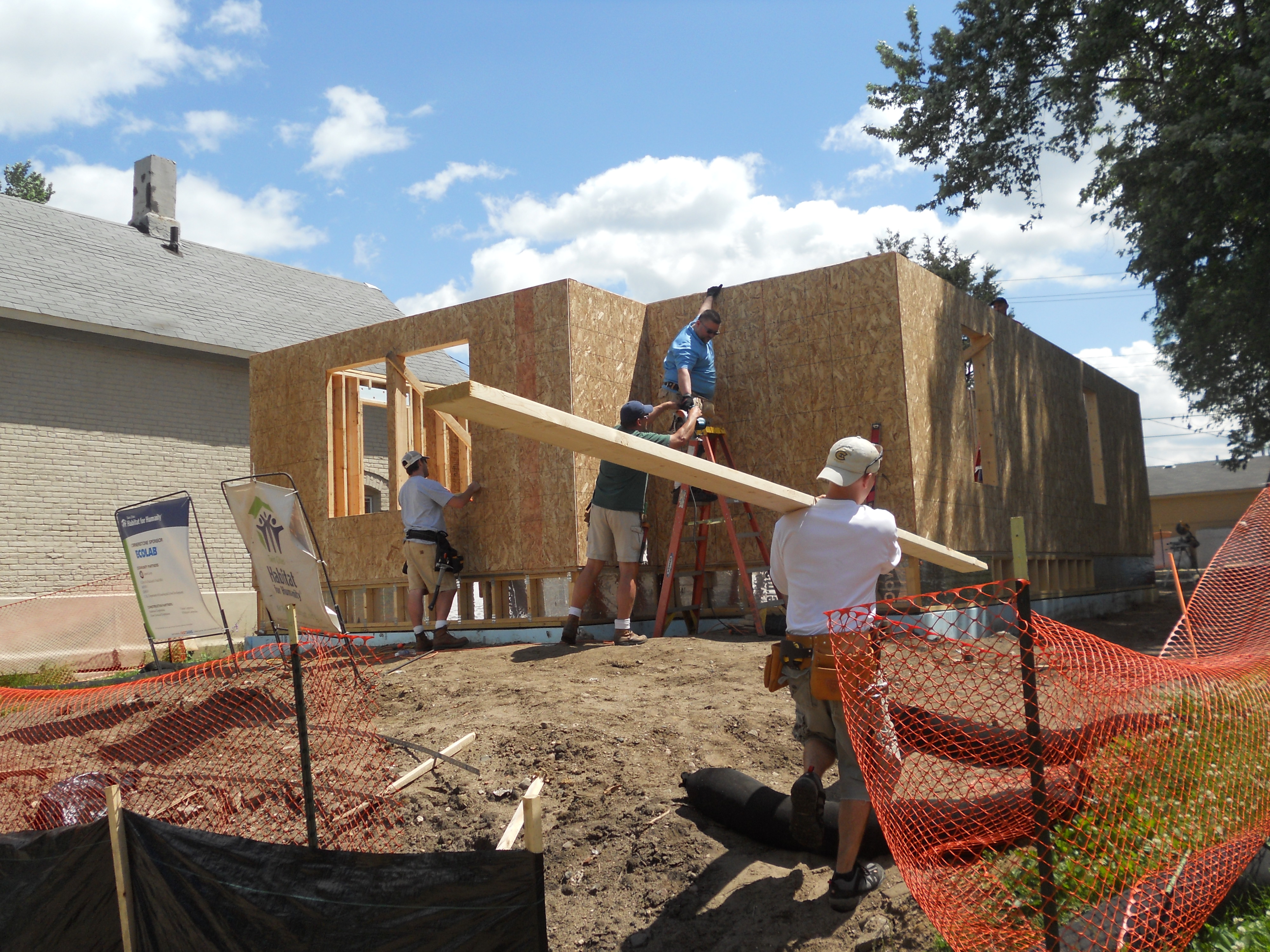 On build day, office etiquette was out the window, and each volunteer wasn't shy about saying, "Hey! Hand me that hammer!"
"Anything business-related is just moved to the side," Todd said. "It's nice to work on a project in a casual, more relaxed environment together."
It was a perfect summer day to build, with a cooling breeze and gentle shade from the site's mature tree making the hard work a little easier.
The Charles Schwab team didn't have much to start with – mostly just a foundation and a floor – but by the time the afternoon came to a close, walls were up and windows and doors were cut.
Rhonda Thorson, one of Habitat's Site Supervisors, praised the group's efforts and quick progress. Erecting walls is hard work, and it takes teamwork.
"We wouldn't be able to get this big stuff done with a small crew, so it worked out perfectly," she said.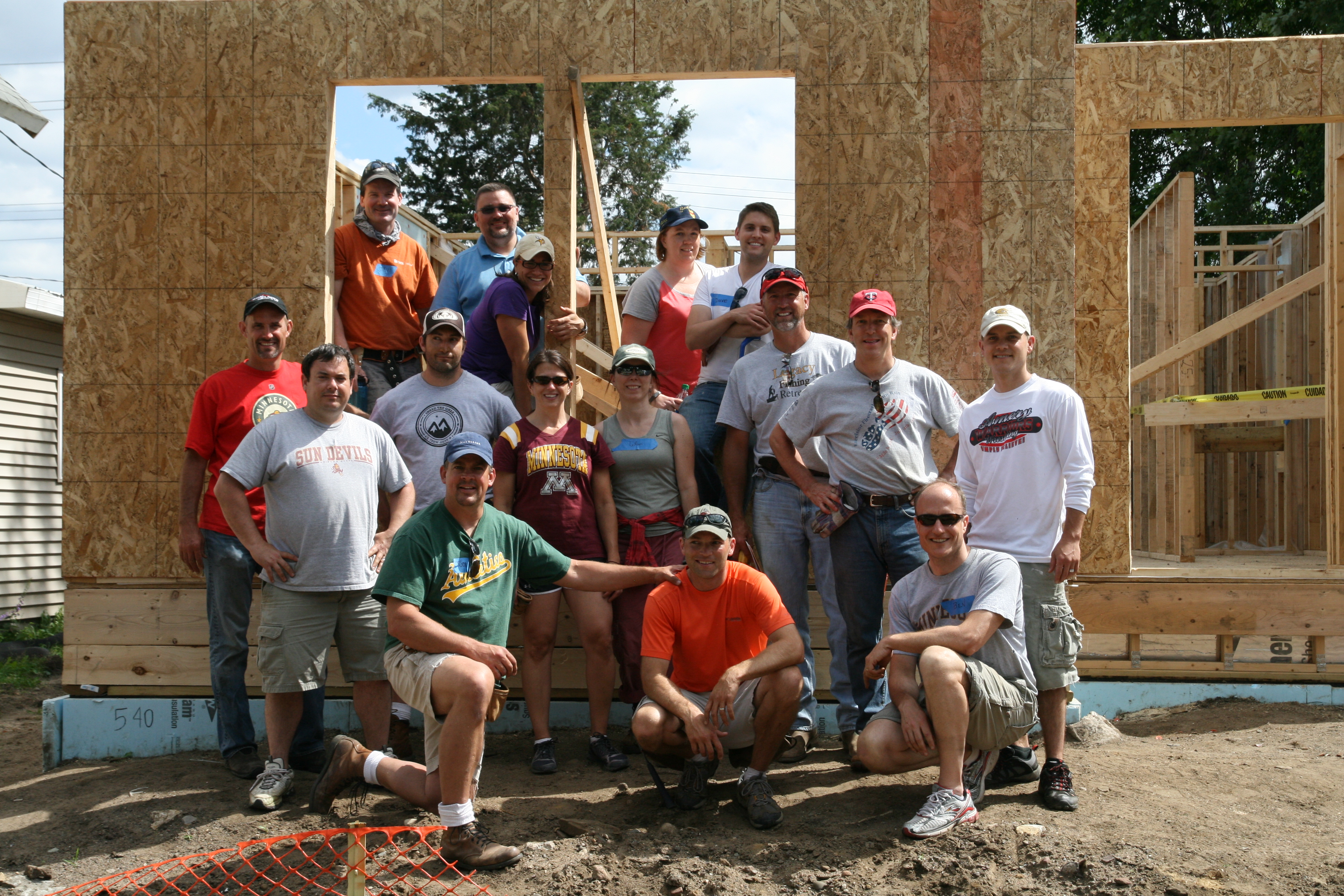 Building this Habitat home will change the lives of a family in need of stability, but it also provides plenty of memories for those who helped turn an empty lot into something truly special.
Schwab volunteers snapped photos of the day's work and will post them in the break room back at the office.