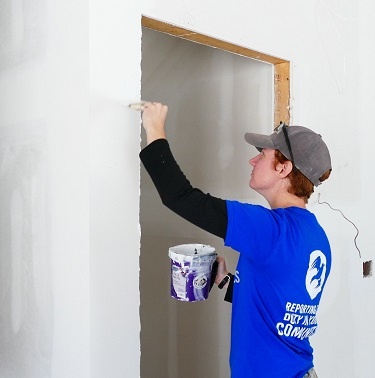 Peggy Schnack is no stranger to volunteerism and service to others.

Peggy is a veteran who served in the United States Air Force as a Bioenvironmental Engineering Technician for more than four years. Following her military service, she joined a veteran's group called Team Red, White, and Blue. It was through this organization that she first learned about The Mission Continues, which eventually led her to Twin Cities Habitat for Humanity.

"When I looked at the web page for The Mission Continues, and saw that its mission is to serve others, thus continuing the mission of service for veterans like me, I knew I wanted to be involved."

Peggy began her fellowship with The Mission Continues in 2015. Most of the service opportunities involve building or improving something with a community that has a need. One of her first projects included the Minneapolis 1st Service Platoon and the Kateri Residence in Minneapolis.

"We worked with them to improve their community space by building a wall to separate the children's play area from an adult meeting space," Peggy said. "We also assisted with painting and building storage."

Other projects that Peggy has worked on include the Little Earth Community in Minneapolis, and the Phyllis Wheatley Community Center—which is just a few blocks from the Twin Cities Habitat for Humanity's Heritage Park build site, where she is currently serving.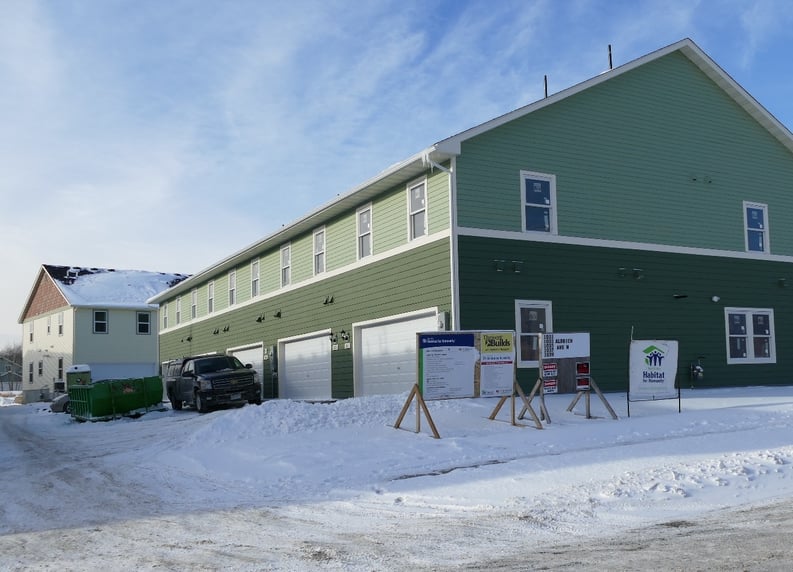 "I was attracted to Habitat for Humanity because the organization reaches families who otherwise might slip through the many cracks of the housing system in the Twin Cities area," Peggy said. "The mission, vision, and especially the values of Twin Cities Habitat caught my attention, and align well with how I strive to live my life."
Prior to her Mission Continues fellowship, Peggy had volunteered with Habitat for Humanity and helped with rehab work on a veteran's home. At Heritage Park, Peggy says she has had many opportunities to learn new skills and grow as a leader.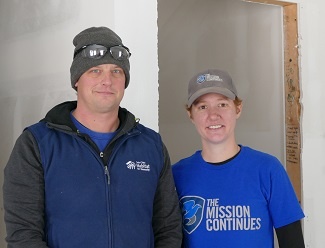 "My favorite part of the Heritage Park build is working with Jake and Stephen (Habitat for Humanity Site Supervisor and AmeriCorps staff)," Peggy said. "They are both very patient with me, and provide instruction and the opportunity to practice with every tool, including a hammer. They encourage me to try new things, like use power tools and hang drywall, and help me to gain confidence in doing them. I've learned a variety of new things to the point that I have been able to lead a team of volunteers in the task!"
Habitat is building a five-unit town in Heritage Park. Historically this was a neighborhood where Minneapolis concentrated much of its subsidized housing for low-income families. Today it's a thriving mixed-income community. During her time one-site, Peggy has had the opportunity to work with the four families who have been matched to four of the units, and has enjoyed getting to know them as they put in their sweat-equity hours.
"The Habitat model of engaging homebuyers through sweat-equity and setting them up for successful homeownership through relevant classes, is a refreshing way of facing a problem in the community," Peggy said. "They aren't just throwing money at the issue or giving houses away — they're engaging people so they have emotional and physical ownership of a home, and a stake in the community they move into."
Throughout the majority of her time at Heritage Park, there have been two main volunteer groups on any given day, totaling up to 36 people. These included corporate sponsor groups, churches, groups of friends, regular crews, and Women Build groups. Now that the weather has cooled off there are fewer groups, but the work continues in all five units.
"Working with a different group of volunteers every day is an interesting challenge, but the staff is certainly up for it!" Peggy said. "As a long-term fellow, Jake has incorporated me into the site leadership team in a way that allows me to have a leadership role, while not putting too much pressure on me to be able to do everything a staff member does. The staff members make it a point to help volunteers have fun and be productive, while also making sure we are safe and doing the job the right way."
Peggy has a passion for service, and strongly believes in programs where people are taking initiative to improve their situation in life. According to Peggy, that's what makes Habitat for Humanity such a great fit.
"It is really great working with Peggy," said Habitat Site Supervisor, Jake Kirchgessner. "Every day, Peggy is ready and willing to jump into any project we have for the day. She brings a positive energy to site and her leadership with our partner families and volunteers has helped to keep our town home project on track and of high quality."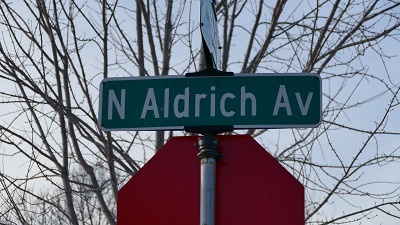 Through her work on-site, Peggy has learned new skills and how to build homes. These skills translate into other areas of her life, like her work with Team Rubicon (TR), a veteran disaster relief organization. As part of the TR strike team, Peggy and other members work with families all over the country on rebuilding after natural disasters, which often includes gutting houses and a great deal of reconstruction.
"What I learn with Habitat helps me to be a more effective member of a TR strike team. Building with Habitat and demolishing with Team Rubicon; who knew each would inform the other."
Peggy's dedication to service, her patience and willingness to learn skills, and her dependability to return to site day after day, makes her an incredible asset to the Twin Cities Habitat for Humanity mission.
"Without dedicated volunteers and Mission Continues fellows, we wouldn't be a successful housing organization," Jake said. "Regular volunteers, fellows, interns and service members allow us to achieve our goals to house more families through our affordable housing options."
Twin Cities Habitat for Humanity needs volunteers year-round! View upcoming volunteer opportunities and sign up to lend a hand today.