On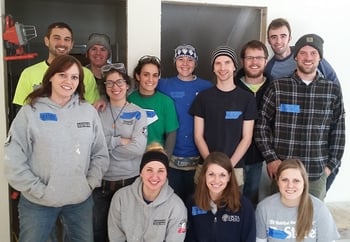 January 23rd, a group of AmeriCorps, AmeriCorps VISTA, and Lutheran Volunteer Corps alumni volunteered at a build site in St. Paul, putting trim around all the first floor windows and installing underlay (a layer that is put down before the vinyl flooring).
According to Heather Erickson, the National Service Program Manager at Twin Cities Habitat for Humanity, TCHFH has hosted AmeriCorps members to engage community volunteers and build, rehab and repair affordable housing across the seven-county Metro area since the program began 21 years ago.
"With their leadership on site and in the office, we are able to engage thousands of community volunteers each year, which increases our capacity to build and repair homes and partner with families through our homeownership and ABWK programs,"says Heather.
The affiliate has also partnered with Habitat Minnesota to host VISTAs and the Lutheran Volunteer Corps to host LVC volunteers.
In the past, Alumni Builds have usually taken place every few years, but thanks to a $2,000 grant funded by Habitat For Humanity International's Habitat AmeriCorps Alumni Association (HAAA), and supported by the Argosy Foundation, the alumni build that took place on the 23rd was the second of the winter season. A team of alumni are working on organizing a third event for the spring, hosted at the Twin Cities Habitat For Humanity office building in St. Paul.
One of the volunteers was Jessa Anderson-Reitz, the Twin Cities Habitat for Humanity Faith Community Relations Intern.
An alumni of two service corps programs, AmeriCorps VISTA and Lutheran Volunteer Corps, Jessa served with AmeriCorps VISTA the summer before her sophomore year of college. Part of a five person crew, Jessa helped with A Brush With Kindness repairs on homes that had been damaged by the 2011 tornado in North Minneapolis.
Choosing a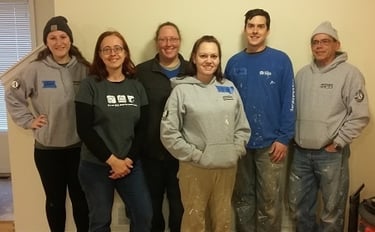 Lutheran Volunteer Corps placement at Twin Cities Habitat, Jessa returned to work with the families applying for the homeownership program. During her LVC year, she participated in Habitat Off the Hill, the Homeless Memorial March, spent a week volunteering at an affiliate in New Orleans, and was involved with the Emerging Leaders program at the Metropolitan Consortium of Community Development.
Like Jessa, Tristain Richards also started as an AmeriCorps VISTA. Tristain served at Habitat for Humanity of Douglas County from 2013 until 2015 and now works as the Community Engagement Coordinator at Habitat for Humanity of Steele-Waseca Area, as well as being a Youth Representative on Habitat's U.S. Council.
Representing the voice of hundreds of thousands of young people involved with Habitat and guiding the growth of Habitat's work in the U.S., Tristain serves on the Affiliate Enhancement & Capacity Building committee and has gotten to work on a few large scale projects focused on youth engagement and branding.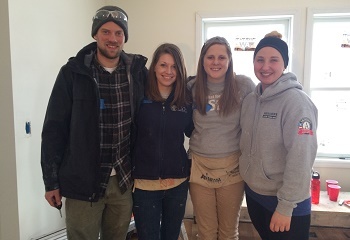 "Habitat relies heavily on AmeriCorps and other service corps volunteers so it is great that they continue to engage them. So many members of the Twin Cities Habitat staff started in a service corps program and after it ended were hired as employees. Alumni Builds are great to bring people back together and as a reminder of how important service corps programs are to Habitat," said Kaitlyn Dormer, a LVC alumni.

Kaitlyn's placement was at Twin Cities Habitat as the Events Assistant, planning home dedications and supporting larger fundraising events. After her year ended, Kaitlyn worked as an interim Executive Assistant at Twin Cities Habitat, before getting hired to do the job full-time.
In March, we will begin the process to recruit summer and yearlong members that will begin their terms of service in June & September. We are looking for individuals who are committed to addressing the area's need for affordable housing, and dedicated to the mission of Habitat for Humanity.