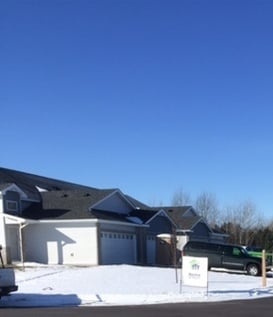 The annual Twin Cities Habitat for Humanity All Staff Build is a day dedicated to bringing our employees, AmeriCorps and Lutheran Volunteer Corps Members together, and reminding each of us of the importance of our organization's mission. This year's event took place on February 17, at the multi-unit project site in Hugo. These townhome properties, originally donated by the Schwieter family, will eventually be the homes of 33 Habitat partner families.
Staff showed up early in the morning, appropriately bundled and ready to be put to work. We worked across eight townhomes, and instead of a variety of finishing tasks to perform like in years past, every single staff member was handed a paintbrush or a roller to complete a seemingly endless amount of priming and painting. We set to work to get the homes ready for their spring closings, with music playing in the background, accompanying the noise of laughter and light-hearted conversations.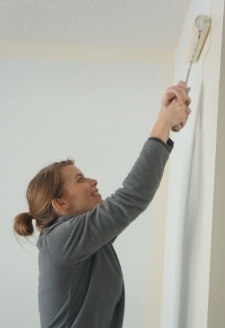 While the All Staff Build Day isn't mandatory, a large majority of staff make an effort to participate each year.
"I like being able to get out of the office for a day, and have the opportunity to connect with coworkers from other departments that I normally don't get to work with all that much," said Betsy Dehmer, a member of the finance team, while finishing a layer of paint alongside Allie Berg from the A Brush with Kindness program.
"I'd agree," Allie said. "It's also a really great way for us to connect back to the core of our mission. I work with families a lot as part of my job, but it's easy to forget how much work happens on a day-to-day basis. Putting a hammer in hand (or in this case, a paintbrush), reminds you of how many people come together to make homeownership possible for many of our families."
In addition to the staff build day, employees and departments also make a point to volunteer in smaller groups, and support organizations outside of Habitat, which not only serves as a team building activity, but also reminds us of how important our volunteers are to our own mission.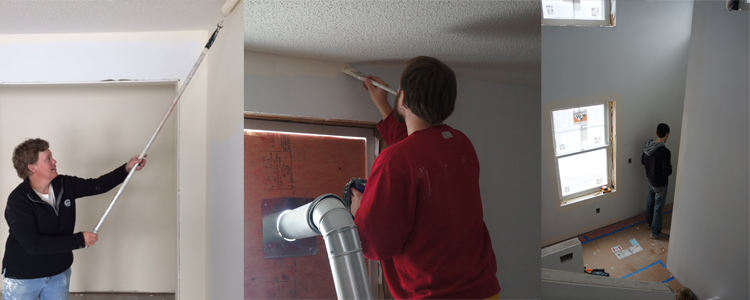 "Here at Habitat, I am continually inspired by the dedication of our volunteers," said Anne Elliott-Thul, Manager of Constituent and Volunteer programs at Twin Cities Habitat. "Last year, we had over 17,000 volunteers give 28,000 days to support Habitat's work in the metro area. Not having support from volunteers would not only limit the families we'd be able to serve through our programs and services, but it would also limit or completely remove the feeling of community around our projects."
Wondering about creating your own staff volunteer program? Read "5 Ways To Encourage Staff to Volunteer" to get started!