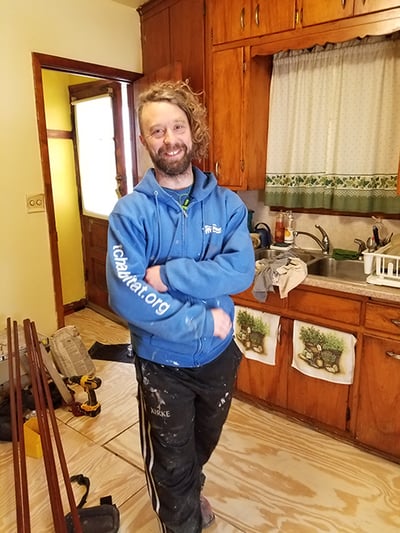 Joe Felion is one of several AmeriCorps members that have transitioned to a Twin Cities Habitat for Humanity employee. He currently is a Site Supervisor for the A Brush with Kindness program, which is a home repair program focusing on keeping aging homeowners in their homes. Joe lives life in the moment, but looking back at his work and life experiences, it all makes perfect sense.
Born and raised in St. Paul, he once volunteered with Twin Cities Habitat for Humanity while in high school. He later became a recreation center director and then a high school teacher for children with behavioral and emotional needs. Having a job that is typically known for high turnover, Joe taught for several years before joining AmeriCorps. Sometimes referenced as the "domestic version of Peace Corps," AmeriCorps members often volunteer and serve with nonprofits, schools, public agencies, community and faith-based organizations. It's a unique way to serve others while earning a living allowance and sometimes an education award. After being with AmeriCorps for two years as a construction assistant building Habitat homes, Joe was offered a job as a site supervisor for A Brush with Kindness.
A Brush with Kindness Construction Program Manager, Mike Robertson, had this to say about Joe—"He has been a big asset to our program! He stays calm when things don't go exactly as planned, and he does a great job managing the complexities of our projects and working with our homeowners and volunteers."
"I've seen Joe go the extra mile to help support our program on several occasions," says Mike. "Taking extra time to research building materials or construction techniques, going back to a project to tie up loose ends. I deeply appreciate his dedication and problem-solving abilities, especially now that more of our projects involve significant rehab work."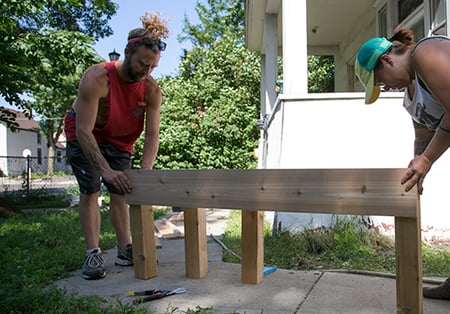 One of the biggest differences between new home construction and working with homes for A Brush with Kindness can be described as having different amounts of "surprises and challenges." Joe's often faced with 100+-year-old homes. Nothing is square, and with every problem tackled, there is a unique and different solution. But the best thing about working in the home repair program is working with homeowners and a great number of volunteers to complete the job. Contrary to his teaching experience, volunteers want to be here, and they want to stay for the full day! Working side-by-side with volunteers, Joe continues to be a teacher, but with dedicated people who want to help and want to make a difference in the community.