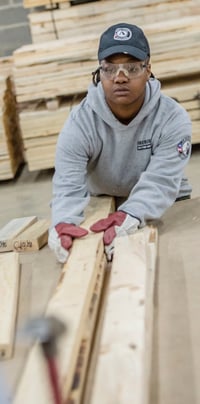 Our volunteers are not the only ones giving of their time and energy to serve Twin Cities Habitat for Humanity's mission. This National Volunteer Recognition Week, we are taking a day to acknowledge our AmeriCorps and Retired and Senior Volunteer Program (RSVP) members. Both are programs under the Corporation for National and Community Service (CNCS) that seek to support people of all backgrounds in serving their communities.
AmeriCorps members receive a living allowance and an education award upon the successful completion of their term. RSVP members are eligible for mileage reimbursements and supplementary insurance.
Habitat for Humanity affiliates across the country have been hosting AmeriCorps and RSVP members since the programs started in 1993, and ours is no exception. There are currently 17 AmeriCorps members serving with Twin Cities Habitat for Humanity. They serve full time either building homes, preserving homeownership through our A Brush with Kindness home repair program, or supporting volunteers at our office.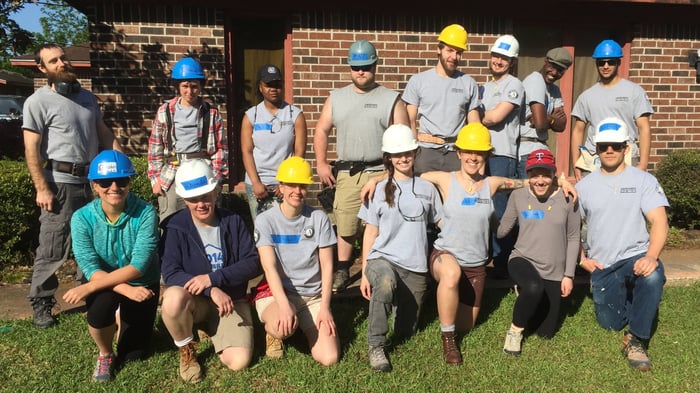 We have 35 active members of the RSVP program who volunteer with our organization. RSVP also helps retired and senior volunteers get connected to volunteer opportunities that fit their skills and interests, so this partnership is a win-win!
Both AmeriCorps and RSVP are federally-funded programs, and as a result, these resources are dependent on decisions about the budget at the federal level. On March 23, Congress approved and the President signed a $1.3 trillion omnibus spending bill for the remainder of Fiscal Year 2018. This bill included a $26 million increase for AmeriCorps State and National programs, and sustained funding for all other CNCS programs. While this is a major victory, we are mindful that AmeriCorps and RSVP have been on the proverbial chopping block throughout their history. Their continued funding is thanks largely to supporters of organizations like Twin Cities Habitat that rely on these programs to carry out our mission.
Please take a moment to thank your Senators and Representatives for supporting these investments in our community, and stay up-to-date on how you can continue to be involved in our advocacy efforts.
Can't get enough AmeriCorps? We're currently recruiting full-year members for the next term. Learn more on our website. Or read about the current team's recent trip to Texas to assist with hurricane relief on the blog!