As a frequent ReStore shopper, Philip Jarosz is accustomed to finding hidden treasures on his regular visits to New Brighton store. During a recent trip, Philip found just what he had been looking for.
"A few weeks back an officer suggested that I wear something reflective during my night rides," said Philip. "The ReStore had a large supply of neon-colored safety clothing and they were very reasonably priced."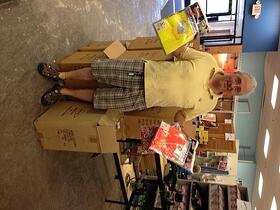 But instead of just buying one blaze orange safety vest for himself – Philip purchased six boxes of them! (That's 600 vests in all).
"I thought 'I got what I needed, so why not buy more?'", said Philip. "It has been a good thing for me to share."
As a Metro Transit bus driver, Philip noticed many of his passengers, including wheelchair-bound riders and bicyclists, do not have lights on their chairs or bikes, making visibility and safety during the evening hours an issue. He has been working with Metro Transit about the possibility of distributing them to workers and passengers, as well as exploring the opportunity to donate them to the Ramsey County Sheriff's Department. In the meantime, Philip has started handing them out free of charge to a few coworkers and fellow motorcycle riders.
"It's a gift," Philip said. "I feel like I'm paying it forward…and receiving a smile and acknowledgment from people – that's a gift in itself."
The vests were originally donated to the Twin Cities ReStore from a local St. Paul company specializing in the development of safety products and clothing for the workplace.
"Twin Cities Habitat is so very grateful for all our corporate partners who provide donated products to the ReStore," Habitat staff member Mark Turbak said. "We love to see donations put to use to better the lives of those in our community in way we could never imagine."
Philip looks at his efforts as a build upon the original donation.
"It's a wonderful reflection for a local company to donate their products to support an organization like Habitat for Humanity," Philip shared. "I feel as though this effort started with the original clothing donation, and by gifting the vests to others, I'm just an extension of that generosity."