The Dakota Regular Crew originated from the Dakota County Chapter of Habitat for Humanity more than 20 years ago, before the seven-county metro area became Twin Cities Habitat for Humanity. The 29-member crew regularly helps out on Habitat projects in the southern part of the Twin Cities on Tuesdays and Thursdays – in cities like Chaska, Shakopee, Savage and Cottage Grove.
This group's versatility is a true asset to Habitat projects. The members are willing to work on all aspects of the build – from framing and siding to sheetrock, painting and trim. The regular volunteers have recently been working on the multi-unit Mississippi Dunes builds in Cottage Grove, and members have completed over 228 Habitat homes since the crew's formation.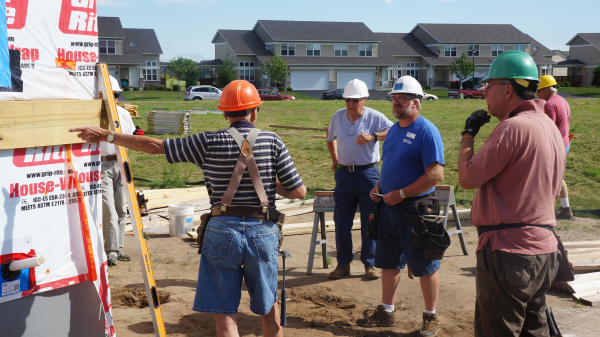 Site Supervisor Erik Johnson has been working with the crew since he started working for Habitat in 2007. His first project with the group was the building of four single-family homes in Hastings.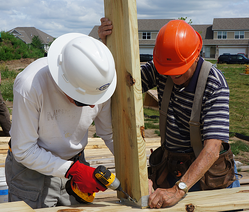 "I enjoy working with the Dakota Crew because they are very reliable and bring a great amount of skill with them," said Johnson. "Habitat needs and relies on all the regular crews, as they are typically bringing a larger skill set than most of our one-day volunteers."
Bill Turner (pictured right; orange hard hat) has been part of the crew since 1997, and is currently the most seasoned member since longtime volunteer Kenny retired last summer. Like many others, Bill got started volunteering with Habitat through his church and was eventually recruited to join the regular crew.
"My favorite thing about being a part of a crew is the fellowship," Bill said, as other crew members nodded in agreement.
Jim Madison, another Dakota crew member, also shared his favorite part of working with the group of regulars. "It's great because everybody is able to learn something new every day."
The Dakota Crew typically has 6-14 people volunteering each Tuesday/Thursday. As one of Twin Cities Habitat's larger crews, members have more flexibility with their volunteer hours. A number of the Dakota volunteers leave during the colder winter months and come back during the busy spring and summer build season.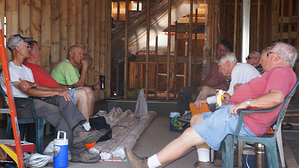 "I personally have enjoyed the crew's company and partnership on all of the builds," said Johnson. "There's always an interesting story to be heard on a break."
Regular volunteers bring consistency and dependability to the construction site. Twin Cities Habitat welcomes volunteers of all ages and skill levels to explore our regular crew opportunities!