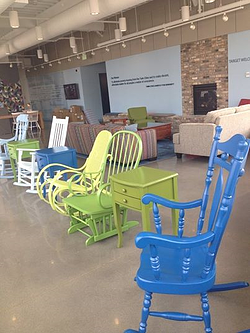 Many visitors to our new home take note of the refurbished used furniture pieces located throughout the building. Be it the rocking chairs in our lobby, a couch in a volunteer lounge, or a credenza found in a conference room, the pieces help Twin Cities Habitat's new facility feel more like a warm, inviting, comfortable home than a corporate office. That's exactly what our new building designer and architect, Gensler, intended.
"As we looked at furnishing Twin Cities Habitat's new home," Gensler Interior Designer Courtney Armstong said, "we wanted meaningful pieces that each had their own story, as well as helped to tell Twin Cities Habitat's story about the homes they are providing to families."
Much of the lounge furniture in the new home was found in consignment shops, vintage boutiques, and antique stores. General Mills and Target also generously donated used furniture. Once pieces were selected, Courtney and her team turned to local artisans to assist in recovering and refinishing items; especially the ones that needed some extra TLC. Fabrics used in new upholstery were selected to highlight a residential quality. Fabrics were intended to coordinate with each other but not necessarily match.
"We didn't want anything that felt too formal, but really wanted to accentuate the collected nature of each space," Courtney said. "For a lot of the wood pieces, we used shades of Twin Cities Habitat's colors (blue and green) to give them a whole new life. This allowed the character of the piece to be showcased, while some consistency throughout."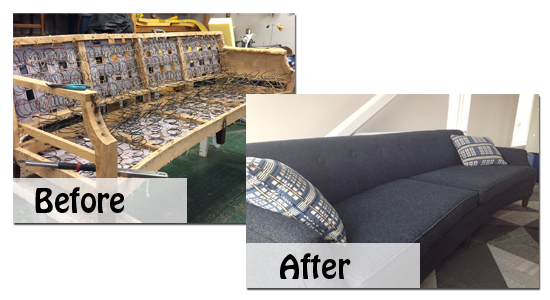 Two noteworthy examples that highlight the unique character of the used furniture throughout the building are the donated sofa located in the coffee lounge on the second floor and the canned rocking chair in the reception area. The couch was initially used by a Twin Cities area furniture maker and teacher, Al Grahn, to teach students more about furniture construction methods by taking furniture apart. Once the sofa had been stripped down to its springs, Al realized the frame's high value and offered to reconstruct it for Twin Cities Habitat's new home. The rocking chair in the reception area has particular value to one Gensler staff member, Betsy Vohs. The chair donated by Betsy belonged to her grandmother.
Twin Cities Habitat's new home ensures we can serve more families than ever before. The new facility provides the needed space, technology and access to increase the impact and efficiency of our work.
Twin Cities Habitat began in a church basement in 1985 and built a home for one family. To date, more than 1,000 families have purchased Twin Cities Habitat homes. Twin Cities Habitat for Humanity brings people together to create and preserve homeownership in our neighborhoods, to partner with hard-working, low-income families to be successful homeowners, and to inspire action that promotes affordable housing for everyone in our community.