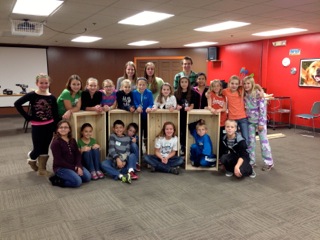 In order to further our mission and educate youth on housing/poverty issues, we now offer a series of fun, interactive activities for all ages that focus on the importance of affordable housing in the Twin Cities. These activities can be facilitated by Habitat staff or leaders from your organization. To schedule your group for one of the following activities, contact youth@tchabitat.org.
Educational Activities
Habitat's Amazing Race
A team competition in the style of the popular TV show, this game takes participants on a trip through the various phases of Habitat's work. From family matching to community engagement; home construction to mortgage payments, this activity is a hands-on, thought provoking introduction to Habitat for Humanity and the role our organization plays in the community.
Ages: 10+
Works best with groups of 10 or more

Poverty Simulation
A highly interactive experience designed to tear down socioeconomic stereotypes related to housing and homelessness. In this simulation, each participant has to make budgetary decisions for their family on a minimum wage income.
Ages: 10+
Groups of 10-30 youth
Housing Scenarios
This activity examines different types of housing options in the Twin Cities and debunks some myths of what the homeless population actually looks like.
All ages
Works best with groups of 10 or more
Habitat in the Classroom
Presentations
Teachers – looking to incorporate Habitat's mission in your lesson plan? Let us come to you! We have a series of age-specific presentations designed to educate students on the value of affordable housing, the demographics of homelessness and what they can do to help. Contact youth@tchabitat.org for more information.

Lesson Plans
These lessons from Habitat for Humanity International are designed to teach public and private school students and youth groups about housing issues around the world.
Additional Links/Resources