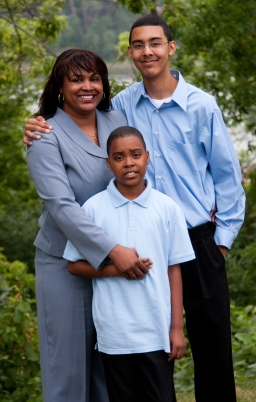 Are you interested in owning your own home but worried about how much your mortgage payment would be? Twin Cities Habitat for Humanity helps low income families buy a house with an affordable mortgage. We offer a 0% interest loan for eligible families who are interested in owning a home. It is a great way to buy a house and provide stability for your family.

We have more than 900 homeowners in the metro area and Ya Landa is one of them. Ya Landa is the proud owner of a Habitat house in St. Paul. She had dreamed about owning a home, but as a single working parent, buying a house seemed nearly impossible to her. She heard about Habitat for Humanity and applied for our program. The dream of owning a home where her family can gather together and make family traditions is now a reality. Her struggles with asthma and poor air ventilation in apartments are now history. She is enjoying a better quality of life for her family, including more privacy and new friendly neighbors. Her kids are continuing to excel in school and she is a valued member of her community.
Around 60 families like YaLanda's buy a home through Habitat every year. We sell houses throughout the seven-county metro area of all shapes and sizes. We sell townhouses, single-family homes, new and renovated homes.
If you and your family have thought about buying a house, but you weren't sure where to begin or if you could afford it, Twin Cities Habitat for Humanity might be able to help! Visit us online to learn about our eligibility requirements and the process for applying, or call us at 612-331-4090 to learn more about the program.
By Cristen Incitti, Family Services Manager, Twin Cities Habitat for Humanity