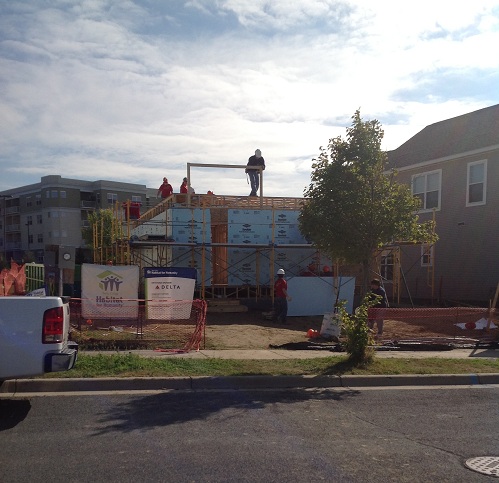 Now in week two, volunteers from Delta's technology department and various office staff are busy framing second floor walls and installing the sub-floor. By Friday afternoon the plan is to have roof trusses set in place on this single-family home.
For on-site coordinator Richard Dieterle, the opportunity to work together, learn new skills and help a family in need really motivates the team. When his duties end on this build, Dieterle will have put in 168 volunteer hours on behalf of Delta.
"It's been an unbelievable experience helping out all over the metro the last four or five years," said Dieterle. "Being able to come together with co-workers from different areas, building alongside Habitat homebuyers makes it all worth it."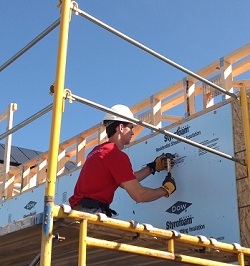 Nationally, Delta and Habitat for Humanity's relationship has grown steadily since 2000. Habitat is one of Delta's core community partnerships in its Force for Global Good which encourages employees to unite under a shared mission to make a difference in the communities where they live, work and serve. Delta employees have helped 115 families build safe, decent and affordable homes in eight countries around the world. More than 9,800 Delta staff members have contributed over 92,000 volunteer hours raising walls, digging foundations, laying brick, installing roofs, painting and other construction-related activities.
Locally, over the last five years Delta has given more than $450,000 towards homebuilding efforts involving hundreds of volunteers.
Homebuyers Abdikarim and Khadra are busy putting in their 400 hours of sweat equity and attending trainings involving budgeting and home maintenance. Recently the family joined a number of Delta employees and Habitat staff for a kick-off event on the grounds of their new home. Khadra addressed the crowd and mentioned her family's thoughts for the future.
"In the short time we've been out here my family's been so impressed with the generosity of the volunteers," said Khadra. "I can't wait to meet our neighbors and settle into this beautiful community."