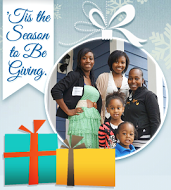 Farrah says her life is an open book. In many ways it feels like a memoir of heartbreak. Farrah's father used drugs and her mother suffered from mental illness. A date rape at age 14 made Farrah a teenage mother. Her breaking point could have been when her older brother, who helped raise her, was murdered.
But Farrah is strong, hardworking and patient. She went to college and got her degree in criminal justice. Today she serves full time in the Minnesota National Guard. The current challenge in her life is raising four children on an annual income of $35,000. She is doing her best but the family is crammed into an apartment with a rat problem and saving for the future is nearly impossible.
Last year, Twin Cities Habitat kicked off a Veterans Initiative to reach more of the military men and women eligible to buy a Habitat home or get Habitat's assistance with home repairs.
Farrah was the perfect candidate for Habitat. She's put in hundreds of hours of sweat equity helping build her Habitat home in Crystal. Members of her Guard unit even volunteered alongside her. She's completed Habitat's 11 homebuyer training courses and is now ready to celebrate her first Christmas as a homeowner.
A new chapter is starting in the book of Farrah's life, one filled with hope and stability. She is thinking long-term and plans to use her GI Bill to help one of her kids go to college, since she already has her degree.
Share your holiday spirit by giving today and making a lasting impact in the lives of more Twin Cities children. Thanks to the generosity of an anonymous donor, your gift will be matched dollar-for-dollar.