Guest blog by Julia Brauchle
Twin Cities Habitat for Humanity staff
What do you get when you put 350 students in a gym with some wood and drills? Sixty-eight completed storage boxes, lots of smiles, and a slight ringing of the ears. But that's exactly what Twin Cities Habitat for Humanity and Blake School teamed up to do in early October as part of Blake's Legacy Day.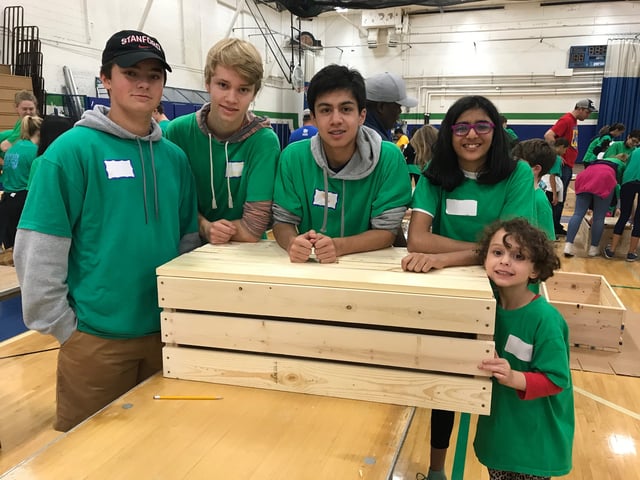 The annual Legacy Day event brings together the entire Blake community for a day of service. Students in grades 1-12, their teachers, and parent volunteers spent the day completing projects with three non-profits. They learned about service, and built a stronger community within Blake by connecting with their peers across grades and school campuses.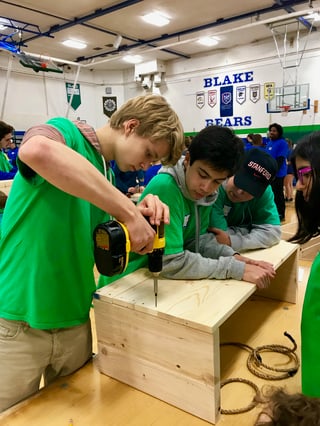 This year's theme was Building Community. A theme that fits so well with the mission of Twin Cities Habitat. As Cathy Lawrence, VP of Resource Development and Community Engagement, said during the Legacy Day morning convocation, "Everyone who helps Habitat for Humanity is part of building community. People who don't even know each other come together to help build and repair houses. You will build community today when you work together on the [box building] project. You will need to help each other. And those boxes keep building community after today, too!"
In a short six hours, the school made the following contributions to the community possible:
Twin Cities Habitat was proud to be a part of such a fantastic community building day and thrilled that the boxes completed will continue to build community as they are sold at the ReStore to make homeownership possible for more families.
You can donate so that Twin Cities Habitat can continue to engage youth in our mission. And check out our youth opportunities.