We all have our own stories of home. This series shares those stories from Habitat staff. We'll explore questions like: what does home mean to us? How did we find a stable home? How do our stories inform our work? And how do Habitat's mission, vision, and values resonate with our experiences?
This story is written by Blake MacKenzie. He's our Communications Specialist, and has worked at Habitat since 2013.
---
My mom still owns the home I grew up in. It was built in 1960 and is situated on a hill. Bricks wrap around the front entry, soaring up along the chimney. Beyond that the hill dips down, revealing windows to the basement. Growing up, I liked to say it was four stories tall (really, it was a split-level, with two stories on each side).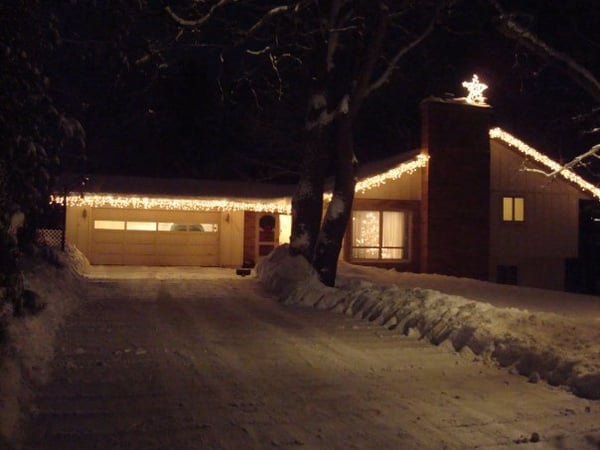 Our backyard gave way to forest. My sister and I spent hours outside in the back with our neighbor, building forts, playing soccer, making snow-people. It was a loved and loving home.
When I was 12, my dad was inextricably diagnosed with stage four lung cancer. Our home became a gathering place for people to mourn, laugh, reminisce, cry. Hundreds of "get well" cards became our new wallpaper. My room became a safe place for me to retreat to when things got tough. My dad's chair next to the big windows in the living room became his. He died almost a year later, when I was 13.
L to R: Building a "snow bear" with dad in the front yard, family Easter photo in the living room, with dad in the front yard shortly after his diagnosis.
A question that quickly came up for my younger sister and I was "will we have to move?" My dad had worked while my mom was a stay-at-home mom. The future looked uncertain. But the answer was a resounding "No—we're staying right here."
That home was my launching pad and safety net. I went off to college and had my same bedroom to come back to on holidays. After college graduation I became very sick and was able to recuperate at home for a year while I got my feet under me. But before working at Twin Cities Habitat for Humanity, I think I took my home for granted.
I found out when I was a little older that, soon after my parents bought their home, my grandpa had the resources to pay off their mortgage. He made a contract-for-deed arrangement with my parents, where they paid him back over time. Their monthly payments and interest was lower than anything they could have found on their own. Not too different from the affordable mortgages Habitat offers.
I also learned that when my dad became sick, my grandpa refused to take home payments from my parents. That meant we could put all our focus on my dad's treatment, and later, grieving. Once we had gotten our feet back under us, my mom was able to take out a bank loan to complete payments to grandpa, and now she's working and making her home payments.
What would my life have been like if we didn't have that family support? Would we have moved? Would I have made it into college? Would I have recovered from being sick? Would I be working at Habitat today, and would my mom and sister also have good jobs? I don't know.
What I do know is that many families would have lost their home in our situation. And that lack of stability spills out into all other areas of life—health, education, job opportunities, wealth creation, community, everything.
At Habitat I've also learned some of the history of housing policy—that some people were encouraged into homeownership while others were denied it. Through policies like redlining, predatory lending, and racial covenants, people of color were effectively kept out of homeownership, or confined to specific neighborhoods with bad mortgages. At the same time, the GI bill helped people my grandparents' age into homeownership, but was largely denied to people of color.
I've learned that, while I faced adversity at a young age, I've also been lucky—for example, if I wanted to buy a home right now, I could afford the down payment thanks to inheritance my grandparents left when they passed away.
Most importantly, I've learned that every home takes a community to build. Sometimes that community involves your family, friends, Habitat for Humanity or another nonprofit, a government program, a bank, a neighborhood. I'm grateful for the community that made my childhood home, and to now be part of a community creating homes across the Twin Cities.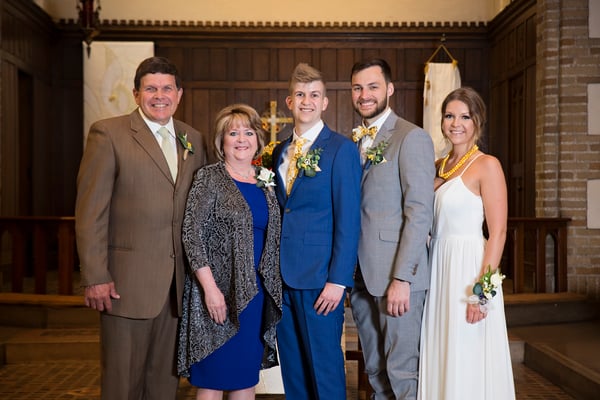 My family now, pictured at my wedding: stepdad Steve, mom Lynn, me, my husband Greg (we met at Habitat!), my sister Nicole.
Read other staff stories of home: Erin's story.