Guest blog by Jackie Peak,
Senior Engagement Associate
Although Twin Cities Habitat for Humanity provides opportunities for individuals and groups to volunteer year-round and across the metro area, we have three builds coming up that need a few more helping hands! Read on to see how you, your family, and your neighbors can volunteer in Chaska, Farmington, Hugo, or other cities in the area.

Where we need you most
We are thrilled to be back out on build sites with volunteers. As we continue to wrap up our summer builds, we begin our fall homes and hope to have many helping hands—including yours! Starting in late September, we have volunteer opportunities in a few cities in the outer area of the metro. Please consider joining us at one (or all three) of these sites and share with your friends!
To sign up as an individual or with a few friends, click the links below. If you'd like to schedule a day to build with a group of up to 8 people, contact us at volunteer@tchabitat.org.
Safely Volunteering During COVID-19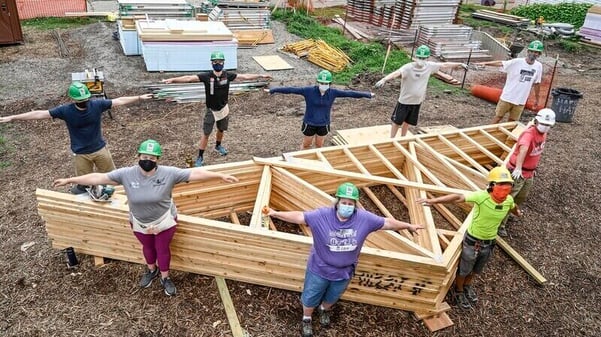 Volunteering with Habitat allows people to stay active and social, even during the pandemic, all while giving back to the community. Anyone can sign up to volunteer as an individual or with a group—no experience necessary!
Twin Cities Habitat always prioritizes safety on construction sites and has implemented new COVID-19 safety protocols to protect volunteers, clients, and staff. Safety protocols include:
Shorter days. Sites are open 9:00 a.m. – 3:00 p.m. to allow more time for deep cleaning.
Smaller crews. Each site has a limit of 6-8 volunteers and social distancing measures are in place.
Masks required. Everyone on site must wear a mask (bring your own if possible; if not, Habitat can provide one).
Wash hands. Handwashing stations are on all sites. Volunteers are asked to avoid sharing tools.
All volunteers must watch a safety orientation video to understand all the COVID-19 safety measures and expectations. We hope to see you soon!