Guest blog by Julia Schafer,
Engagement Associate
Twin Cities Habitat wrapped up the second House that Beer Built and we couldn't be more excited to start on the third. Although we are unable to come together as a community to celebrate completed homes, we still want to take the time to celebrate and recognize the hard work of our sponsors, volunteers, homebuyers, and Habitat staff.
Our second House that Beer Built was a fantastic experience shared with dedicated volunteers and a wonderful homebuyer family. Thanks to our House that Beer Built supporters, Habitat homeowner Getachew, his wife, and three young children now live in the home in St. Paul. They are thrilled to have the safety, security, and space their family needs to thrive.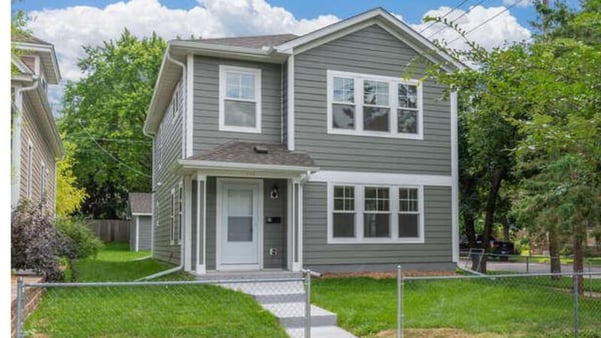 Site Supervisor Jimi Way is grateful for all the work, and couldn't let the opportunity pass to give one more thanks to all the volunteers and donors:
"Yes, this has been a very odd year; we'll just leave it at that. But, something very sweet happened at The House that Beer Built. Marcus and I want to share how much fun we had working with you and how appreciative we are of our time together. The construction work is now completed and the tools have moved on to other sites. But I will carry the memories of working with you. I'm happy for the family and their children who will now live in a beautiful house in a great neighborhood. Thank you for volunteering your time, enthusiasm, and being a part of something bigger together. Happy Day I Say!
Relive the experience by checking out photos of the 2019 House that Beer Built!
Volunteer on our next House that Beer Built!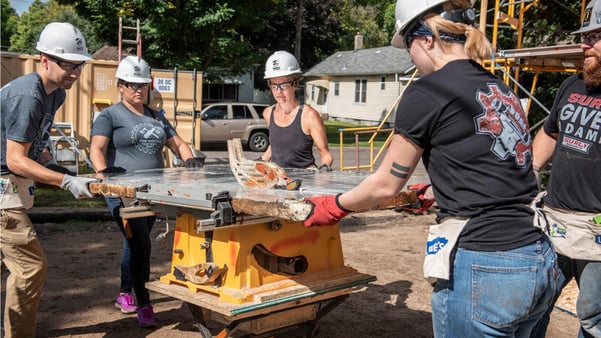 Picture taken before COVID-19. Please check out our 2020 Safety Protocols.
House that Beer Built #3 is located in North Minneapolis and set to begin construction in late September! Twin Cities Habitat for Humanity is bringing the collaborative spirit of the craft brewery community together again to build something great.
Local craft brewers will team up to sponsor the construction of a new home in partnership with a local Habitat homebuyer. Volunteer with us and the local brewing community as we build strength, stability, and self-reliance through shelter by sponsoring the construction of a new home in partnership with a local family. Together we can raise walls one pint at a time!
We can't wait to see you out on site! Curious about our safety protocols? Check out our volunteer safety blog and watch our safety video before signing up.