The fight for a more equitable and just world takes many forms. During the last year, we've witnessed a global movement for Black lives. People all over the world rose up to demand accountability from criminal justice systems that have systematically devalued and destroyed Black lives. We've also seen demands for a more transparent and honest historic record—a peeling away of veiled histories of racial violence like the Black Wall Street Massacre in Tulsa, Oklahoma.
Celebrating Pride
As we celebrate LGBTQ history and achievements, let's remember that Pride was first conceived as a celebration and remembrance of the LGBTQ uprising at New York City's Stonewall Inn in June of 1969. The protest was led mostly by trans women of color rebelling against ongoing police brutality directed at their community and a criminal justice system that not only failed to protect them but often failed to acknowledge their constitutional rights.
It's this history—and the people who lived it—that we celebrate during Pride month. I admire the courage and tenacity of those who fought for their own rights and paved the way for future generations to experience more acceptance, love, and equality.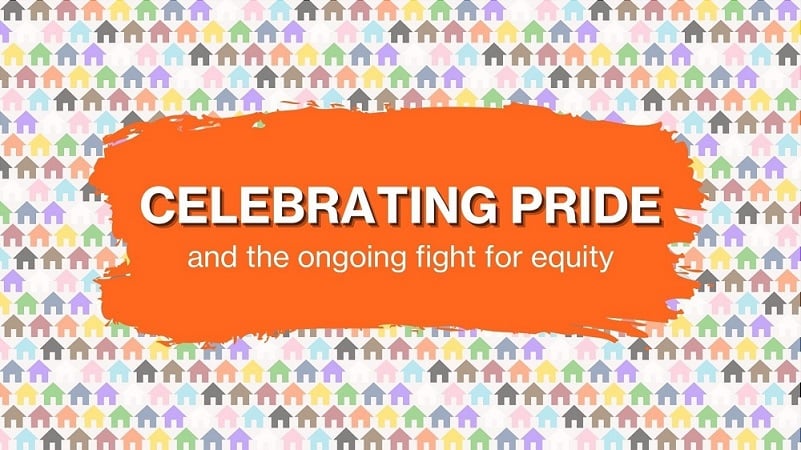 During Pride Month, we also celebrate the richness and vibrance of a world where LGBTQ people can truly be who they are. I'm personally grateful to live in that world. I'm proud to work side by side with LGBTQ staff, clients, volunteers, and supporters. I'm humbled by the people pushing for racial justice and trans rights—so many of them are young queer people of color. And I'm committed to working toward Habitat's vision of an equitable Twin Cities region where all families have access to the transformational power of homeownership.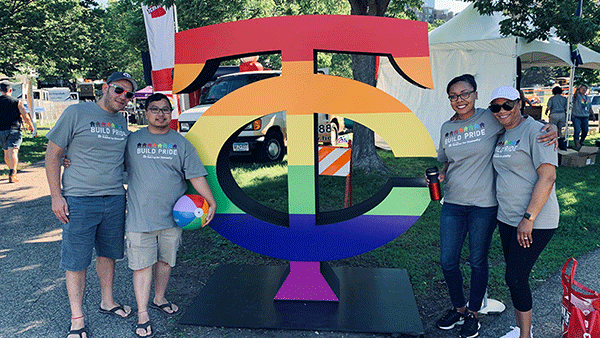 Habitat staff at Twin Cities Pride in 2019
Wealth and Housing Disparities for LGBTQ People
Despite significant social and legal victories in the United States, discriminatory gaps continue to deprive LGBTQ communities of full economic equality. On average, LGBTQ workers earn less than their heterosexual and cisgender peers. Transgender people, in particular, are four times more likely than the general population to earn less than $10,000 annually (source: Center for LGBTQ Economic Advancement & Research).
These income challenges have created wealth gaps that, combined with discriminatory lending and real estate practices, have led to homeownership and housing disparities in the LGBTQ community.
Minnesota is among the 21 states (and Washington, DC) with laws that prohibit housing discrimination based on sexual orientation and gender identity (source: Human Rights Campaign). One additional state prohibits housing discrimination based on sexual orientation, but not gender identity. Six other states are accepting discrimination complaints because the state has adopted the Bostock rationale into state law.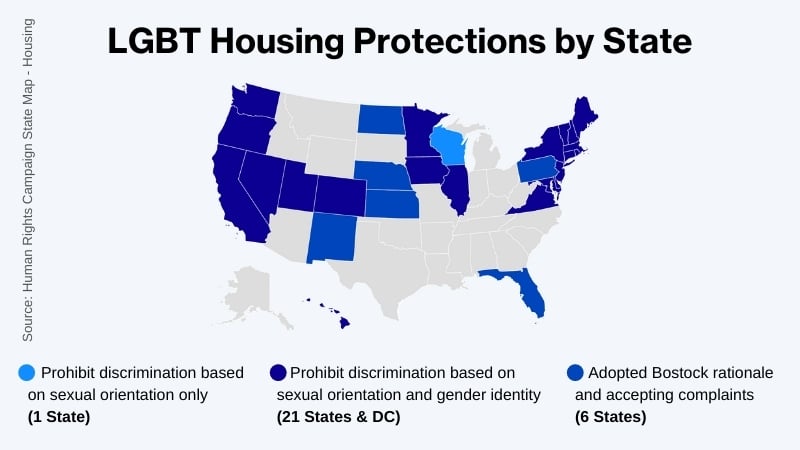 But having these laws in place doesn't mean discrimination doesn't occur. According to a 2019 study published in the Proceedings of the National Academy of Sciences:
Gay couples are 73% more likely to be denied a mortgage than heterosexual couples with the same financial worthiness.
When same-sex couples are approved for a loan, they pay 0.2% more in interest and fees than different-sex couples.
Those discriminatory practices have very real consequences for homeownership rates. According to a 2020 UCLA Williams Institute of Law report:
Nearly half of LGBT adults own their homes, compared to 70.1% of non-LGBT adults.
Homeownership is even lower among LGBTQ people of color and transgender people.
So while we celebrate how far we have come in the struggle for LGBTQ rights and protections, it's clear we still have a lot of work to do.
Opportunities Ahead: Equal Access Rule
There is some good news on the horizon. In April Housing and Urban Development (HUD) Secretary Marcia L. Fudge announced that HUD is withdrawing the previous administration's proposed rule that would have weakened the Equal Access Rule. The Equal Access Rule ensures that all individuals—regardless of sexual orientation or gender identity—have equal access to the Department's programs, shelters, other buildings and facilities, benefits, services, and accommodations.
"Access to safe, stable housing—and shelter—is a basic necessity," said Secretary Fudge. "Unfortunately, transgender and gender non-conforming people report more instances of housing instability and homelessness than cisgender people. Today, we are taking a critical step in affirming HUD's commitment that no person be denied access to housing or other critical services because of their gender identity. HUD is open for business to all."
It's my hope that with an administration in Washington that stands firmly behind enforcing the Equal Access Rule and the sense of urgency around equity and justice created by the COVID pandemic and the murder of George Floyd, we have an opportunity right now to make significant progress in the fight for a truly just and equitable society.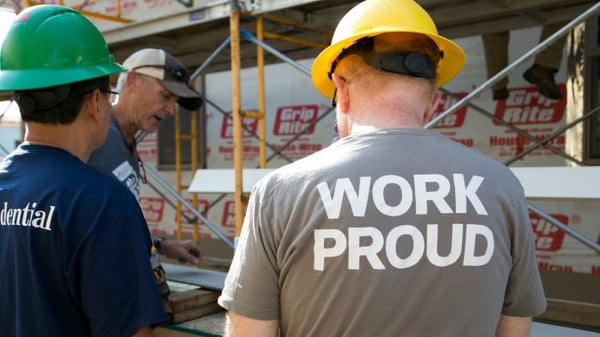 Rainbow Build volunteers
Join Habitat's Rainbow Build
One way you can learn more is by joining Habitat's 8th Annual Rainbow Build taking place August 23-27 and September 20-24. Rainbow Build helps raise awareness of affordable housing issues affecting the LGBTQ community and celebrates the diversity of the Habitat community.
Each day during Rainbow Build, a speaker will visit site representing an organization that supports the LGBTQ community. Volunteers learn about and discuss important LGBTQ housing topics and work side by side to build a Habitat home.
If you'd like to be notified about Rainbow Build volunteer and sponsorship opportunities, please enter your information in the form below.