If you're a ReStore regular, prepare to be shocked! The New Brighton ReStore has been totally redone and it is dramatically different than it was before. Now it is an even better representation of the mission of Twin Cities Habitat for Humanity, and, hopefully, our business will grow so we can help Habitat build more homes for low income families.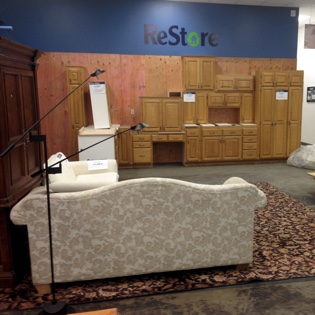 If you walk into the ReStore today, you'll feel more like you're walking into a showroom than a cluttered recycling warehouse. Inside the front door you'll discover furniture and room vignettes that make it easier for you to envision what our merchandise might look like in your home.
Soon we'll be adding a new area for DIY classes and workshops, and display areas to showcase DIY ideas and products. You'll want to visit the store often to get art and craft project ideas and materials, and the materials you need to bring your own creative ideas to life.
You'll find the checkout desk has moved, too, and it's a totally new, beautiful desk (courtesy of a closed Barnes & Noble). We've added an additional checkout for those really busy days, like at our clearance sale prior to the remodel. The clearance sale was the busiest day the ReStore has ever seen, and nobody had to wait too long to get checked out, and you shouldn't have to wait long either, no matter how busy the day.
The changes don't stop at the front of the store. If you turn to your right you'll see cabinets, appliances, painting supplies, plumbing and fixtures, lighting, and millwork (doors and windows) displayed like they were in a Home Improvement Center. Oh, wait, the ReStore IS a home improvement center, now it just looks more like one!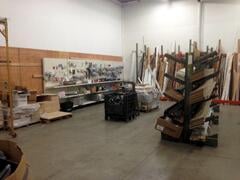 Continue to the back of the store and you'll find a clearance center, lumber and other building materials our contractors, builders, and home project shoppers demand, all neatly displayed and easy to get to.
The point of the remodel was to improve the shopping experience for our customers, old and new alike. Products are easier to find, easier to look at and inspect, and easier to buy and load. We've also made the unloading of donations easier as well, after all, without all the generous donations, we wouldn't have anything to sell!
We're excited to have you come in and see the all the changes. We're always looking for ways to get more of the products you are looking for, and to the experience one you want to repeat often. We think we've done it, come check out the new ReStore and tell us what you think.
While we are continuing to put some final touches and tweaks on the remodel, we are open for business. When you come in you'll see the new layout gives us lots more room for your donations. If you are emptying out your garage, or remodeling a kitchen or bathroom, or doing other updates to your home, we'd love to talk with you about donating your unneeded items to the ReStore. All of your donations, and purchases, go to help Twin Cities Habitat for Humanity build safe, stable, affordable housing for low income families in the Twin Cities.
If you don't have stuff to donate, but you have ideas for workshops, or would like to have fun working at the ReStore, we'd love to have you contact us to talk about the possibilities.