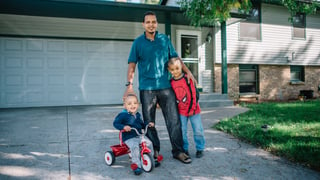 Real estate agents, brokers, and REALTORS® are all professionals that are legally allowed to help facilitate the sale of homes. But what makes them different from each other and how can you decide which will be the best partner for you?
The simple answer: Qualifications.

Agent
A real estate agent is any salesperson that has a license to sell homes in their state.
In Minnesota, an agent needs 90 hours of real estate education and must pass a real estate salesperson test. A real estate agent is not allowed to work alone; they must work for a broker.
Broker
A broker is someone who manages a real estate agency. They communicate with lawyers and insurance companies to make sure homes are sold correctly. Brokers are also considered agents since they are licensed to sell homes. Like a real estate agent, a Minnesota broker must take 90 hours of real estate classes and pass a salesperson test.
To become a broker, they also need to take a 30-hour broker class, pass a broker's test, and have three years of real estate agent experience. Unlike agents, brokers can hire a team of salespeople or work by themselves.

REALTOR®
A REALTOR® is someone who's part of the National Association of REALTORS®, or NAR for short. To be a member, a REALTOR® must follow a strict code of ethics built on honesty.
Not all agents and brokers are REALTORS®. In fact, only 62 percent of licensed real estate professionals are also NAR members.
You don't have to sell homes to be a REALTOR®. A REALTOR® can also be someone who figures out the price of a home (an appraiser), manages a property, or is a real estate counselor.

Who Should I Choose?
Brokers have more training, and likely more selling experience. But everyone has to start somewhere. There are many good agents with less experience. If you're looking at homes in a certain location, try choosing a realtor who specializes in that area. When choosing a salesperson, your best resource is friends and family. If they had a great experience buying a home, they will be happy to connect you with their agent or broker.
Also, find out if a real estate salesperson is a REALTOR® and search for one in your local area. This will give you extra assurance that a salesperson is honest with you. Your relationship with your real estate salesperson, like all strong relationships, needs to be built on trust. Trust yourself, too. If you don't think an agent or broker has your best interests in mind, consider moving on to someone else.
Buying a house is a very important step in your life journey. Make sure you're being guided by someone who puts your needs first.