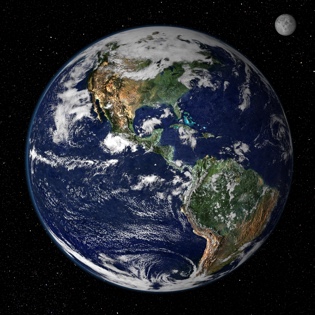 With
Earth Day
coming up on Wednesday, April 22
nd
, it's a good time to take a look at how the
ReStore
can help make you an environmental superstar, help children get the homes they need to thrive, and save you a bunch of money in the process. Here are ten reasons why donating to, or shopping at, the ReStore makes good green sense.
By donating recycled or overstock items to the ReStore, you are giving a second and useful life to materials that could have ended up in a landfill.
When you donate items to the ReStore you are reducing your carbon footprint by eliminating the manufacturing pollutants of having to make a new set of similar items.
When you donate items to the ReStore you are saving the atmosphere by eliminating the fuel use and emissions needed to transport the items to market.
Items you donate to the ReStore that aren't able to be resold are deconstructed and recycled, eliminating the majority of their negative environmental footprint while still raising money for the ReStore.
When you buy items at the ReStore you are buying local, meaning low fuel usage for both transporting the items to where you will be using them, and eliminating fuel for shipping from a manufacturer.
When you buy products from the ReStore you are helping Twin Cities Habitat for Humanity build affordable housing for low-income families. Habitat homes are typically built close to public transportation, which makes it easier for families to get by driving less.
ReStore purchases fund the construction of new, energy efficient homes. They also support the rehabbing of existing housing stock because saving a home that can be fixed can be greener than building a new home altogether.
When you shop at the ReStore, all of the proceeds stay local and go straight to Twin Cities Habitat for Humanity. Last year the ReStore fully funded the construction of three homes in the Twin Cities. This year, the ReStore is on a pace to fund six homes. (Not necessarily green, but still very cool).
When you donate to the ReStore you receive a tax deduction for the market value of your donations, allowing you to recycle more of your money in the local economy.
When you shop at the ReStore, you typically save 50% to 70% of the retail prices you might find elsewhere. In fact, we think you'll save so much money, and have so much fun shopping with us, that you'll do a bunch of buying with us and won't feel the need to waste gas driving around trying to find a better deal elsewhere.
While the prices are unbelievably low, the quality of our products is still top-notch. Some products are even brand new! The gently used products also adhere to a high quality standard. ReStore's nonprofit status allows us to offer lower prices than bigger, for-profit department stores.
If you've never been to the ReStore, it's time you checked us out and become an environmental superstar. (Okay, maybe superstar is over the top, but you will be a star in our eyes, and in the eyes of the kids who benefit from Habitat homes!)
Earth Day's coming, what are you waiting for?