This past weekend the Habitat ReStore was featured at the Midwest Home Show. The show gave the ReStore the opportunity to introduce itself to tons of new people, both at the show, as well as in all the TV coverage of the ReStore at the show. Below you'll find an interview with a ReStore customer, but if that isn't enough to get you to come by and see what we have to help you with your home improvement projects, read on.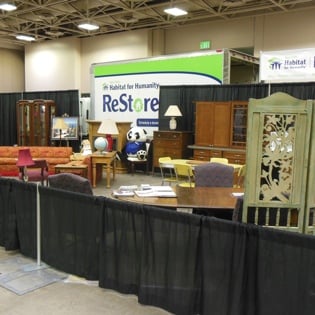 If you like discovering great deals on cool stuff, you'll love the ReStore. If you like seeing tons of new, unique stuff every time you walk in the door, there's no place like the ReStore. If you appreciate a worthwhile place to donate all that stuff taking up room in your garage, the ReStore is your place. If you enjoy customer service that is fun, committed, and ready to help, you'll find it at the ReStore. If you've been looking for a place where your volunteer time makes a big difference, or where your purchases can change lives, the place to go is the ReStore.
Have you been to the ReStore yet? Why not? The ReStore is everything I wrote above, and much more. Let's look at the ReStore, one step at a time.
First, the ReStore is a home improvement outlet that is open to the public. Located near the intersection of County Road D and Highway 35W in New Brighton, the ReStore is only a short drive from any place in the Twin Cities. That's called convenience.
Second, visit the ReStore and you'll find hot deals on new and gently used furniture, appliances, ceramic tile, lighting fixtures, tools, sinks and bathtubs. You'll find new windows, doors, and roofing and building materials. You'll also find unique, one of a kind decorator items that can take a project from ho-hum to hot-dang! You'll also find and inventory that changes daily, making every visit a new adventure.
Third, if your garage is getting too cluttered, if you've got old tools, left over building materials, or artwork you used to love, you can bring it to the ReStore and get a tax deduction for donating it. The staff at the ReStore will help you unload your treasures, or help you figure out the best way to get large donations to the store. Every donation gets turned into money that helps children and families get into the home they need to build a better future.