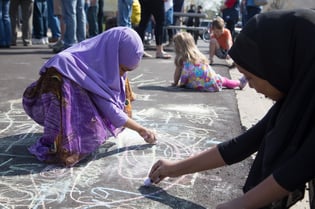 Last weekend, Twin Cities Habitat supporters, volunteers and homebuying families gathered in the sunshine to celebrate the completion of eight townhomes in Hugo and Woodbury. These are the first of the 33 Habitat homes that will be built in Hugo, thanks to an incredibly generous $1 million land donation from JL Schwieters and Schwieters Companies in December 2013. To date, the five-acre land contribution is the largest ever received by Twin Cities Habitat for Humanity.
The homes built in Hugo are a result of many pieces coming together, and through the efforts of a whole community. From the generous donation of land & lumber from Schwieters, courageous families that gave their time & resources to complete homeownership classes and the sweat equity on their homes, to energetic volunteers and strong community ties, Hugo has it all.
Paul Delahunt, President of Renewal by Andersen, spoke for many when he shared how powerful it is for his team to be involved. "Involvement is the best representation of our mission. It grabs our hearts, to be part of your dreams, and makes our work more meaningful."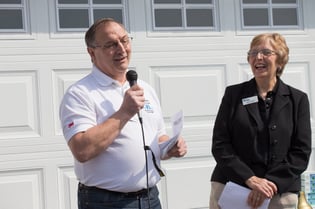 Lou Cristan, a long-time Habitat volunteer through 3M Gives says working with families on their homes is the reason he keeps coming back. "They have an incredible energy and are so fun to work alongside. Knowing the family who will live here—their stories and goals—ensures we build everything with a lot of love and care. We all come out to build but we keep coming back because of the camaraderie. We hope that you get as much joy here as we did (throughout the build)."
Sue Haigh, President & CEO of Twin Cities Habitat, said buying a home from Habitat is "more than just having a home, it is building a future." The homebuying families echoed these words saying it was important for each of their families to have a stable and safe place to thrive.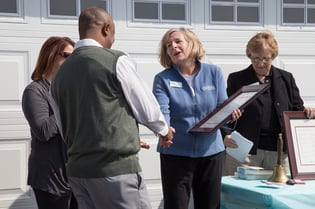 "I will be able to focus on raising my boys here," said Damaris.
"My family doesn't have to live in a neighborhood that is unsafe anymore," shared Samy.
"My children love to dance, now we have a basement for dancing and plenty of space upstairs to spread out and read. So everyone is happy," Meskerem explained.
"My daughter wants to be a doctor and my son wants to be a football player. I am grateful for this opportunity for my children to dream about their futures. I tell them when they grow up it is important to give back to the community, and to give this opportunity to others," shared Mohamed.
Twin Cities Habitat is already starting to work on another multi-unit of townhouses in Hugo, and we are grateful for the powerful contributions from the Hugo community.
View more photos from the dedication here.