Guest blog by Noah Keller,
Lead Project Manager and Global Engagement Manager
We just completed our 7th annual Global Village Gone Local build week and sponsorship! Members of Twin Cities Habitat's previous Global Village teams were invited to come together, reconnect, raise funds, and build together at two new single-family homes in the Harrison neighborhood of Minneapolis.
Since last year's Global Village Gone Local event, Twin Cities Habitat volunteers helped build seven homes in Addis Ababa, Ethiopia, and our supporters sponsored the construction of 57 Habitat homes in Dominican Republic, Ethiopia, Guatemala, Haiti, and Nicaragua through our Global Impact Fund!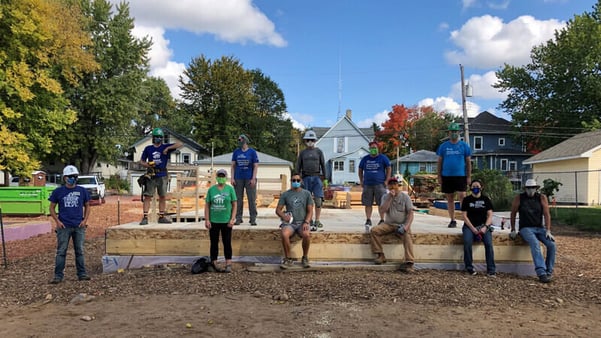 Global Village Gone Local volunteers
Framing work is a volunteer favorite, and there was no shortage of it this past week. Our site supervisor, Zack, made certain we were productive and worked as a team, staying safe all the while. I am constantly amazed by the incredible people known as Habitat site supervisors.
Here in the Twin Cities and in all of our partner countries, site supervisors are responsible for building high quality homes utilizing – and teaching – a volunteer labor force, and they make it look easy! The highlight of the week was Friday's tandem raising of first-floor walls and raising over $10,000 to sponsor our build week!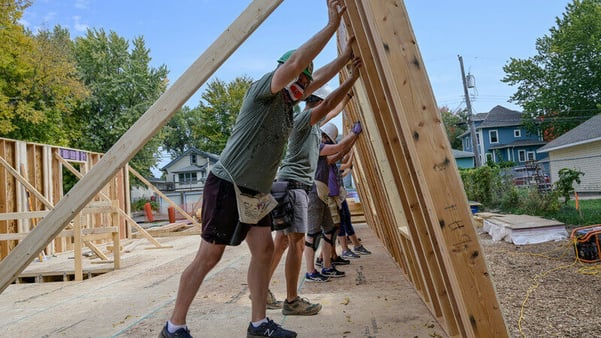 Over the years, these volunteers have built and financially supported Habitat homes in Nicaragua, Ethiopia, Cambodia, Guatemala, Mozambique, Dominican Republic, Costa Rica, and Vietnam by participating in Global Village trips led by our affiliate. These volunteers show that supporting international Habitat projects does not mean taking away from support here at home, but rather growing support for affordable housing here and around the world.
Become a Global Village volunteer and expand your impact, and your role as a global citizen! The current pause in international travel is a great opportunity to save up for our next round of Global Village trips, which will resume as soon as it's safe to do so! Trips typically consist of 5 build days, plus a day of rest and recovery, all led by local guides and site supervisors.
Email globalvillage@tchabitat.org to learn more.