Each year, Twin Cities Habitat for Humanity heads to Washington, DC for Habitat on the Hill, a federal advocacy conference hosted by Habitat International. At this event, housing advocates from across the country gather in our nation's capitol to learn about affordable housing, hear from inspiring change-makers, and meet face to face with our federal legislators. This year, of course, the pandemic threw a wrench in our ability to meet with our lawmakers in person. So instead, we met with them online!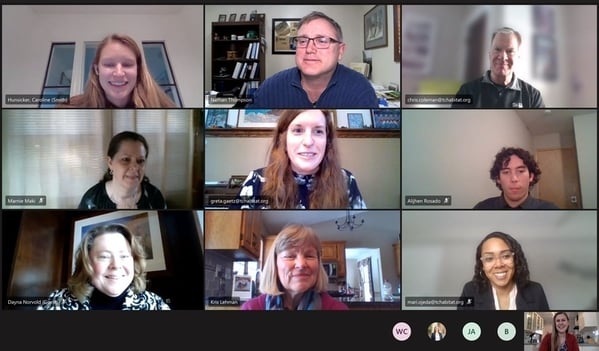 Habitat advocates from across the state met virtually with Senator Tina Smith's staff member Caroline Hunsicker (top left). Alijhen Rosado (center right), Intern with the Twin Cities Habitat Advocacy Team, is quoted later in this story.
On Thursday, February 11, more than 400 housing advocates met with their Members of Congress. With a unified voice, Habitat for Humanity advocates from across the country spoke about the value of affordable homeownership and presented three key asks:
Support the inclusion of homeowner assistance in additional COVID-19 relief plans. Too many low- and middle-income homeowners are struggling to make their mortgage payments because of COVID-19. Federal assistance is critical for protecting homeowners from foreclosure. We asked lawmakers to include homeowner assistance in additional relief plans.
Sign on to co-sponsor the Neighborhood Homes Investment Act (NHIA). This new program would incentivize private investors, through an income tax credit program, to support the development of affordable homes in disinvested areas. We asked our lawmakers to sign on as co-sponsors of the bill.


Prioritize appropriations for critical housing and community development programs. Habitat relies on federal investments to fund the development of affordable homes, through programs like HOME, CDBG, SHOP, and the USDA 502 Direct Loan Program (which rural affiliates use). We asked for expanded or constant funding levels for these programs, as well as for the AmeriCorps program, which is essential to the work we do at Twin Cities Habitat.
The Minnesota Habitat delegation met virtually with all 10 of our state's congressional offices. Using Microsoft Teams, we were able to connect "face to face" with lawmakers and staff, share our stories of home, and present our legislative asks. In fact, meeting online made things a bit easier in some respects. In a typical year, we dash from one end of the Capitol complex to the other, scrambling to find our meeting rooms on time. There was 100% less running around with a virtual format. We also found that more of us were able to attend, given the accessibility of virtual meetings.
Alijhen Rosado, intern with the Twin Cities Habitat Advocacy Team, experienced his first-ever federal lawmaker visits. Here's what he had to say about the experience:
Engaging with affiliates around the country and talking with federal lawmakers is something I thought wouldn't be possible, but this virtual conference gave me the opportunity to do so. I'm continually impressed by Habitat's mission to empower both its staff and larger community through affordable ownership.
Brittany Satterwhite, a Habitat homeowner from North Saint Louis County, attended the conference and met with her US Representative Pete Stauber.
"He seemed responsive to everything we had to say," she said. "It was a very good feeling, knowing that he heard and seemed to be involved."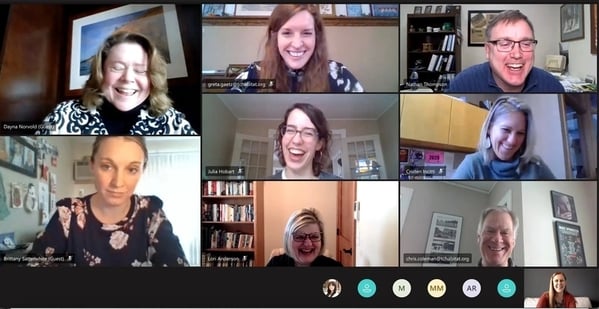 Brittany Satterwhite (bottom left) shares her story of being a Habitat homeowner with Representative Pete Stauber's office and fellow Habitat advocates. Nathan Thompson (top right), Executive Director of North Saint Louis County Habitat for Humanity, is quoted below.
As Nathan Thompson, Executive Director of North Saint Louis County Habitat for Humanity, said: "We were truly able to bring people together to build homes, communities, and hope."
Has this blog inspired you to take action? Take a minute to complete this advocacy action! With a few clicks you can send an email to your Representatives and Senators to support Habitat's federal advocacy priorities.