What do you think about when you hear the word advocacy? For some people, advocacy might sound broad, unfamiliar, and even intimidating. Twin Cities Habitat thinks of advocacy as an important tool we can use to help achieve our mission to eliminate poverty housing from the Twin Cities and to make decent, affordable shelter for all people a matter of conscience. But what is advocacy, and how does it help Habitat work towards our goals?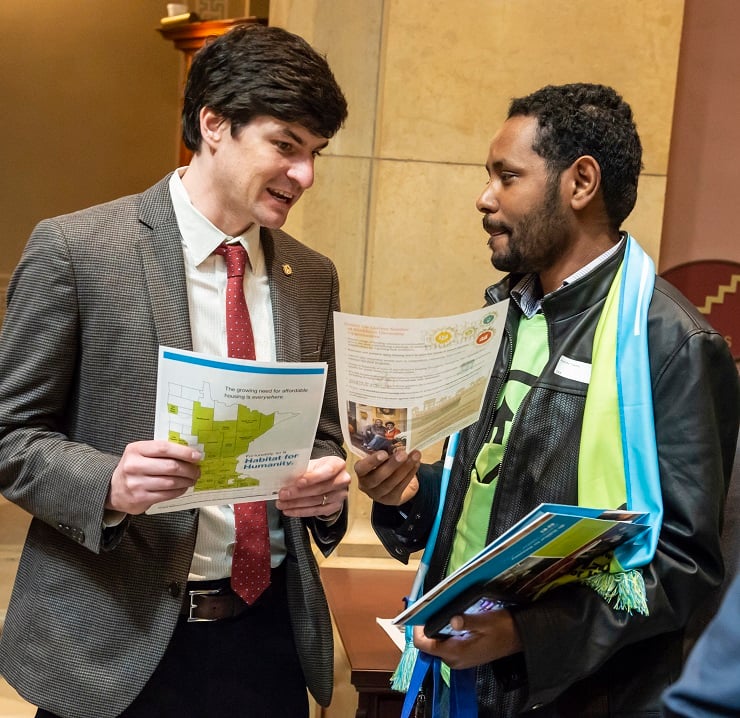 According to Merriam-Webster, advocacy is the act or process of supporting a cause or proposal. The root of our cause is the affordable housing crisis in the Twin Cities. As a region, the Twin Cities has lost more affordable housing than it has added since 2011, while area households remain cost burdened. This means more than one in four Minnesota households spend more than 30% of their income on housing, leaving fewer resources for healthy food, school supplies, and savings. As a compounding factor, the Twin Cities suffers from some of the widest racial disparities in housing in the nation, and families of color are disproportionately cost burdened by their housing. While Minnesota has one of the highest homeownership rates in the country, homeownership opportunities are significantly less accessible for families of color.
While Twin Cities Habitat has been partnering with families to achieve affordable homeownership since 1985, we cannot address the affordable housing crisis alone. In addition to leveraging strong private and philanthropic support from donors and volunteers, Twin Cities Habitat established formal advocacy efforts in 2009 to increase public support for investments in affordable housing. Through advocacy, we engage community leaders and elected officials at the federal, state, and local levels to help bring together the resources and support we need.
Each year, Twin Cities Habitat identifies specific priorities that align with our public policy goals to:
Advance affordable ownership opportunities.

Promote access to safe, quality, and affordable housing across the full continuum of need.

Promote financial stability for individuals and families.

Cultivate and preserve healthy and vibrant communities.
We then work to elevate these issues to our legislators by bringing our message where decisions are made, from congressional offices in Washington D.C. to the Minnesota State Capitol and City Hall. We are deeply committed to advocating in a nonpartisan manner, and we find support for affordable housing among elected officials of every party.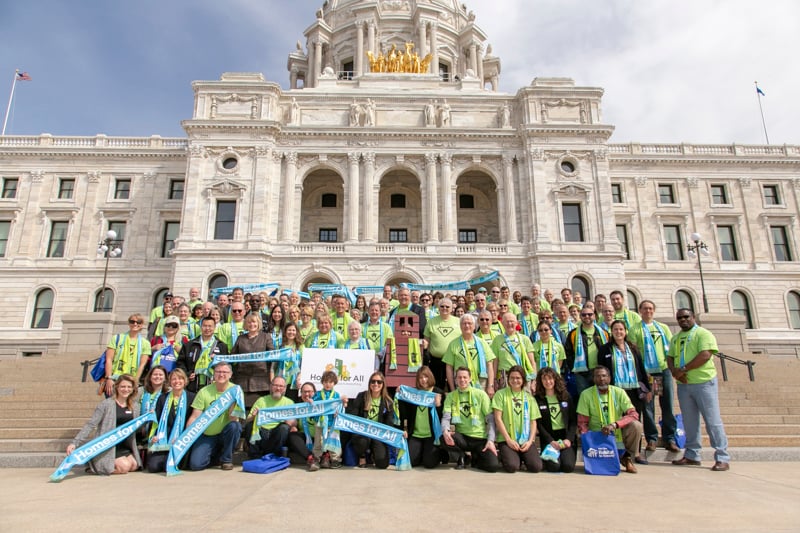 Habitat works in close partnership with coalitions representing organizations across the housing continuum, and we further multiply our impact by energizing Habitat supporters to become advocates. Our Housing Heroes engage in thousands of meaningful advocacy actions each year in support of affordable housing policy, from sending a postcard to their legislators to testifying at hearings. We provide the education and resources for supporters to advocate in the ways that feel most comfortable to them. With so many ways to act, Housing Heroes can become involved in more dynamic ways as their confidence in advocating grows.
You too can partner with Habitat by advocating for affordable housing! Sign up for action alerts and updates for opportunities to amplify your voice through simple advocacy actions. Join Habitat supporters from across Minnesota in advocating at the state Capitol during Habitat on the Hill. No matter your advocacy experience, we are confident that by expressing your passion, you can help make safe, stable, and affordable housing a reality for all.