It was halfway through our Habitat advocacy day in D.C., and we were really starting to feel the five miles of walking. Our group of eight Minnesotans had split up to meet with our Representatives in Congress, but we were now back together in the offices of Minnesota Senator Tina Smith. She would be joining us in a minute, but for now we were gathered around a conference table, talking with her staffer, Adam Schiff, who focused on housing issues.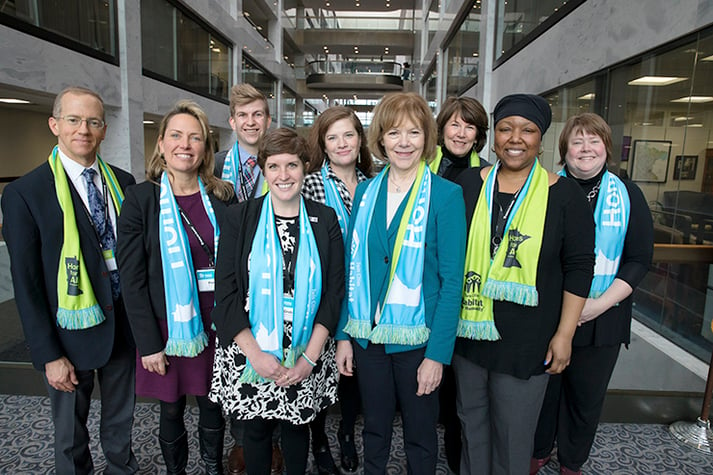 Senator Tina Smith, fourth from right, and Minnesota advocates.
Cathy Lawrence and Robyn Bipes-Timm, both in executive leadership at Twin Cities Habitat, shared a bit about Habitat and the work we do in partnership with the public and private sectors.
Pam Johnson and Greta Gaetz, our Advocacy Team, joined in to explain the federal programs that Habitat uses to build and repair homes, like the HOME fund, SHOP, and CDBG.
Kevin Worden (Executive Director for Two Rivers Habitat by Rochester) and Dayna Norvold (Executive Direct for Rice County Habitat by Northfield) shared stories from their affiliates and encouraged funding for the USDA 502 program, which helps homebuyers in rural areas.
I shared about my husband's experience as a Twin Cities Habitat AmeriCorps member, and why it's important to increase funding for the AmeriCorps program.
Then, Senator Tina Smith appeared almost out of thin air.
She greeted everyone personally and warmly—but when she heard that one of our eight was Buffy Moore, a Habitat homeowner from Minneapolis, she immediately wanted to hear Buffy's story. Buffy shared how, at one point, she found herself homeless with five young children. But she worked across the entire continuum of housing – from emergency shelters, to supportive housing – to eventually partnering with Habitat to buy an affordable home. She now works for Hennepin County and Clare Housing, and she sits on the board of Simpson Housing and serves on Habitat's Advisory Council.
One of Habitat's core principles on advocacy says "In all of our work, we will seek to put shelter on hearts and minds in such powerful ways that poverty housing becomes socially, politically, and religiously unacceptable." One of the most powerful ways to advocate for a better world is by sharing our stories. When Buffy shared her story with legislators, and when she shared it before the 350+ participants at Habitat on the Hill, she inspired others to stand up and speak out.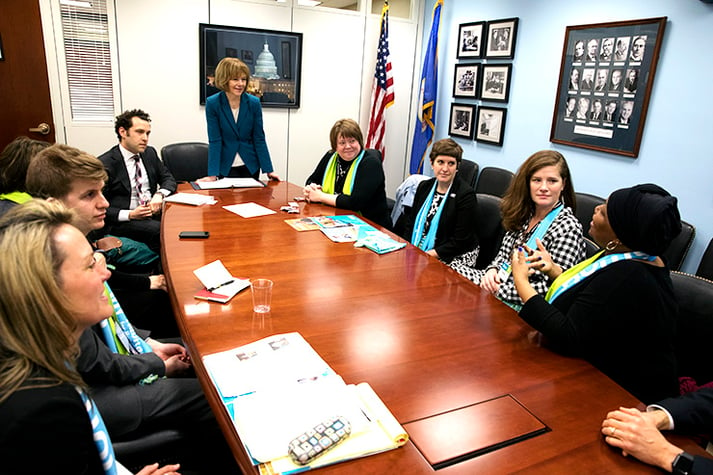 Stable, affordable housing is a bipartisan issue
On our day on the Hill, we met with the offices of all of our Minnesota legislators—Republicans and Democrats. What surprised me was how similar all the meetings were.
First, everyone knew about and respected Habitat. Representative Pete Stauber's aide gushed about the ReStore Home Improvement Outlets—she frequently visited a ReStore to find furniture when she moved somewhere new. Representative Jim Hagedorn's aide had done Habitat builds in college at Mankato, and he wrote down dates for upcoming home dedications in Northfield.
Second, everyone recognized the importance of a safe, stable home. Legislators and staff found it unacceptable that one in four Minnesotans pay more than 30% of their income on housing, forcing them to make unconscionable choices—like do I keep a roof over my head, or do I get the medicine I need?
Because of these reasons, essentially everyone could get behind our asks.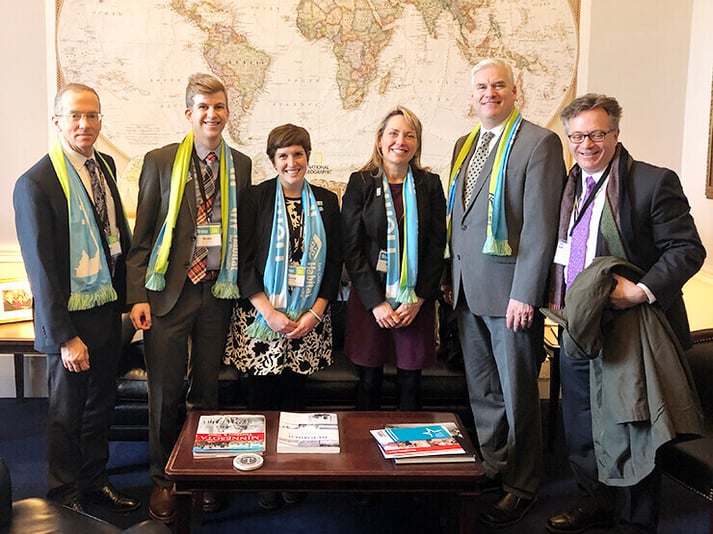 We had the pleasure of meeting with Representative Tom Emmer (above, second from right). We also met with the offices of Senator Amy Klobuchar, Representative Jim Hagedorn, Representative Angie Craig, Representative Dean Phillips, Representative Betty McCollum, Representative Ilhan Omar, Representative Collin Peterson, and Representative Pete Stauber.
The color of law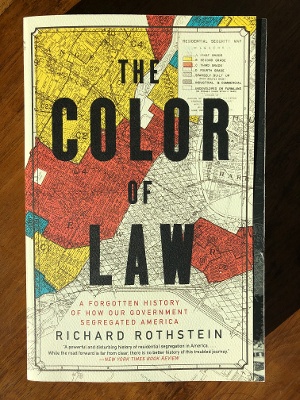 When we weren't at the Capitol, we spent time with our "Habitat family" (as Buffy would say), hearing from other Habitat affiliates and partners in the work.
Perhaps the most eye-opening session came from our keynote speaker, Richard Rothstein. He's the author of The Color of Law: A Forgotten History of How Our Government Segregated America.
He demonstrated that racially explicit policies were put in place by the government at the local, state, and federal levels all across the country. This book is incredibly powerful, so stay tuned for upcoming blogs where we further explore this topic. But for now, just know it's a must-read.
Before we left, one of our speakers quoted Thurgood Marshall: "Where you see wrong or inequality or injustice, speak out, because this is your country." We can see a lot of injustice in our country today—but our voices are powerful, and now's the time to speak out.
You can sign up for our advocacy action alerts right now to stay up-to-date on our advocacy efforts.
You can also register for our own Habitat on the Hill - MN on Monday, April 29.