Contributed by Jon Slock
Global Village Team Member
Greetings from Fitche, Ethiopia - thanks for reading!
Today was our first day on the worksite. The group did a pretty decent job rotating between chiseling concrete, moving sticks, digging holes, moving rocks, and unloading cinder blocks off a truck. The worst injury in the group was me tripping to get on the van to head for lunch. (I'm fine; thanks for your concern.)
(Speaking of moving rocks: for anyone reading who has done a Costa Rica trip: you have no idea what rocks are. The rocks we are digging out here in Ethiopia make Costa Rica rocks look like pebbles. I'm taking that away from you. Stop talking about it.)
There a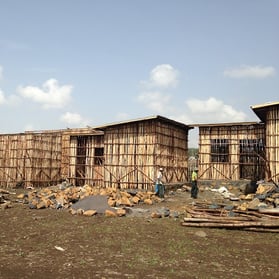 re sixteen of us on this inaugural Twin Cities Habitat Global Village trip to Ethiopia. Granted, it's still just Monday, but we seem to have a pretty high-quality group. We were a bit subdued yesterday. However, I attribute this to the extremely long flights we all incurred getting here, as well as the four-hour drive getting from Addis Ababa and Fitche yesterday. I'm sure we could have all slept until noon today. But the adrenaline of our first day seems to have fixed everything.
I was told that I must mention that we saw baboons during the drive yesterday. And it wasn't just a few baboons. It was a lot of baboons. Hundreds? What is a group of baboons called? A gaggle? A herd? No idea. If we weren't in the van, it would have been a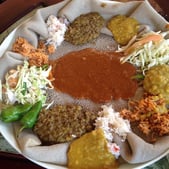 bit frightening. I'm glad that's over, actually.
In other news… the hospitality here is fantastic. All of the meals we've had so far have been outrageously amazing. As we got off our van this morning to start the build week, we were greeted with a song by the local families. Our mid-morning was punctuated with an Ethiopian coffee break. The coffee here is not only delicious, but also so strong that I doubt whether I'll sleep tonight.
That is a lie. I moved a lot of cinder blocks, moved a lot of dirt, and pulled some big rocks out of trenches. I'm going to sleep well. But it's worth it. I'm glad to be here.