Contributed by Tracy Williams (Day 4) and Beth Johnson (Day 5)
Global Village Team Members
Greetings from Fiche, Ethiopia! Thanks for reading about our Global Village adventures!
Tuesday March 1, 2016 - Day 4
Work Update
Digging pavement around House 4
Carrying rocks for foundation of House 5
Chiseling to ready cement cover on the walls of House 3
Continued moving logs across the building site
TCHFH + HFHE Collaboration
In an intimate group dinner in the secluded Mushroom House, the TCHFH Ethiopia Team shared their reflections on the trip so far and spent the rest of the evening learning from Dereje. We covered topics from a historical explanation of the coming Battle of Adwa holiday to the background and experience of the families being assisted by the Fiche project site.
Daily Minutes and (Mis)adventures
Sunrise and sprinting are the subjects of Dennis' early morning photoshoot, capturing a pair of our Ethiopian neighbors finishing early morning running drills
It's all for the kids – John reminds us why he's committed to Habitat in his Thought For The Day
Our fearless leader, Dereje, conducts a lunchtime mission to save the group from a confectionary withdrawal; TCHFH buys Fiche out of chocolate
Dr. Bronner's soap earns its spot on the packing list in soapgate at the C-Lale hotel – together Sharon, Dennis, and Dr. Bronner put an end to your writers' ongoing struggle to combat mysterious plumbing problems.
Wednesday March 2, 2016 - Day 5 - Battle of Adwa
Work Update
Continued moving logs across the building site; increased log weight and length leads to the innovative use of knee pads as shoulder-log-holders
Moving rocks (of varying sizes) around the foundation of House 5
Moving soil piles outside the interior of House 5
TCHFH + HFHE Collaboration:
Dennis, Mickey and John W. collaborated to videotape and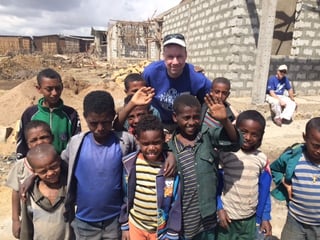 interview families and TCHFH participants on-site about their respective experiences with the project and build. The Director of Habitat Ethiopia visited the site mid-morning and had lunch with the TCHFH staff back at the C-Lale Hotel. In our group lunch, TCHFH President Sue Haigh shared highlights from TCHFH's new strategic plan.
Daily Minutes and (Mis)adventures
Drawing on a Bible story of waiting for a miracle, the Mason's remind us that waiting is okay in their Thought For The Day
Wednesday – aka fasting day – brings exciting new developments to the heretofore unchanged C-Lale Hotel menu – fish, spinach, and lentils, oh my!
On-site, Sharon finds a new calling in metallurgy; she works one-on-one to construct metal framing
Finding real truth in the Mason's passage on miracles and waiting – Sue experiences the miracle of a four-day late C-Lale secret menu discovery: freshly cut potato chips!
Local children run to meet our bus every day
Crazy dreams set in for the team courtesy of our anti-malaria medication.