Contributed by Sharon Mason
Global Village Team Member
We started our fourth day on the work site in Fiche with a post-breakfast walk to work! The streets of Fiche are busy with pedestrians, horse-drawn carts and tiny blue taxis so it was a unique experience for us to join the morning flow of activity. Once on site, we were inspired by Sue's sharing of a quote from Ann Lamott about the transformational power of grace:
"I do not at all understand the mystery of grace--only that it meets us where we are, but it does not leave us where it found us".
Indeed, a Global Village experience transforms us as we work alongside the kind and hard-working Ethiopian workers, as we meet members of families who will inhabit the five 4-plex units we are helping to build, and as we put into action our conviction that everyone deserves a decent place to live. Twenty families will soon be forever transformed when they move out of their current poverty dwellings and take up residence in stable and healthy housing in July 2016. An additional 20 homes will be built by April 2017.
At an altitude of 9300 feet, our work site offers a beautiful panoramic view of the Ethiopian countryside; quite hilly with a stunning plateau in the distance. Our days are warm, mostly sunny and breezy—perfect conditions for working. Today's tasks at the build site included work on three of the five housing structures and included foundation digging (yes, we dig a LOT), building-block moving and laying, rock hauling (yes, we haul a lot of rocks), concrete mixing (on the ground using water hauled in by donkeys), and concrete-chiseling. One Team Ethiopia member, Mick (a nurse) even administered first aid to one of the workers. It was a satisfying day of hard work and progress.
Perhaps other bloggers have mentioned the special morning coffee break where we gather under a blue tarp structure, eucalyptus leaves covering the floor, and the gracious women who will be future homeowners treat us to traditionally prepared Ethiopian coffee, popcorn, fruit, roasted grains and nuts, and cookies. Then the kids show up for photos—our team photographer, Chick, brought along a Polaroid-type camera so the children could have a keepsake picture of themselves and they loved that! (They also loved flipping through the photos on Rebecca's cell phone!)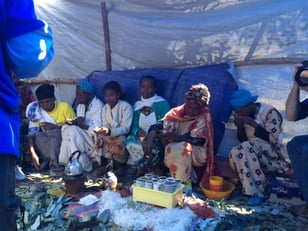 The kids here are amazing, enthusiastic, full of curiosity, and friendly. We get plenty of high-fives and waves. As our bus approaches some of the houses along the way, the kids run after us, shouting and waving like crazy. It's definitely a highlight of our bus ride!
At the end of our work day today, we were taken to the current home of one of the future homeowners, a heartbreaking and sobering scene in many ways. The mother of six, Yeshi, is a widow living on 300 birr (about $15) per month, half of which is spent on rent of a two-room dwelling with a dirt floor. These scenes of poverty housing can be emotionally troubling, but that is why we come here—to build and experience the grace of transformation that decent housing provides.
Ameseginalehu (thank you) for sharing the journey with us.