From May 9 - 14, Habitat affiliates across the U.S. partnered withValspar during Valspar National Neighborhood Week to tackle projects in their local communities. Projects ranged from landscaping to home builds, with Valspar providing more than $2.5 million in paint donations and financial contributions, in addition to thousands of volunteer hours to the affiliates that participated.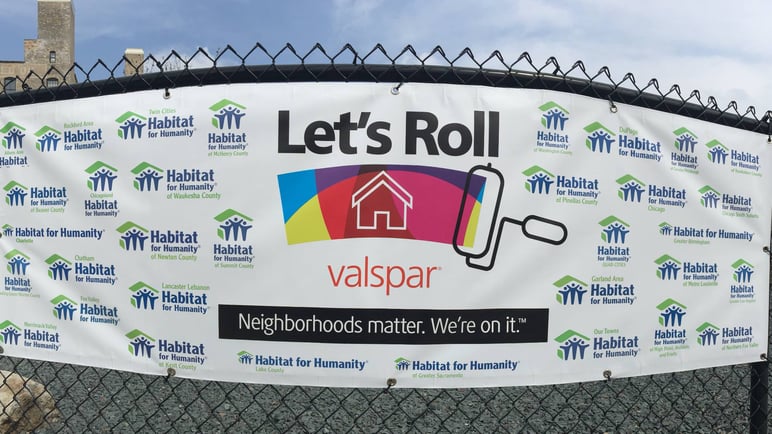 A celebratory "Let's Roll" banner displayed at Valspar's headquarters (courtesy of the Valspar Facebook page).
"Valspar's National Neighborhood Week was about rolling up our sleeves and rolling on a fresh coat of paint to improve communities, here in the Twin Cities and across the country," said Kimberly Welch, Valspar Vice President of Communications and Chair of The Valspar Foundation. "Our employee volunteers at all 30 of our sites were excited to contribute to Habitat's mission — helping families in need of decent, affordable housing."
Twin Cities Habitat for Humanity (TCHFH) was one of the affiliates that took part in the special week, partnering with Valspar to perform small repairs and prep, prime and paint Glenda's home in St. Paul.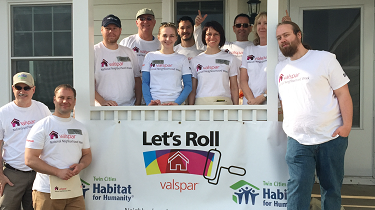 Glenda is a senior citizen caring for four foster children and living on a fixed income. Over time, the repairs that needed to be made to Glenda's home began to pile up, prompting her to apply for Habitat's A Brush with Kindness (ABWK) program. Starting on May 9, ABWK staff and volunteers began tackling the minor repair and paint work on Glenda's home, with Valspar providing the paint for the entire project.
"Almost 20 years ago we started the A Brush With Kindness (ABWK) program in partnership with Valspar," said Riley Moynihan, Sr. Associate of Corporate Relations at Twin Cities Habitat. " In that time, we've preserved homeownership for nearly 2,000 families in the Twin Cities, and Habitat affiliates across the country have implemented ABWK programs of their own. Valspar is a true champion in the community and a relentless supporter of Habitat; every day thousands of Habitat families sit down for dinner in a room with Valspar paint on the walls. As Habitat's National Paint Partner, Valspar has donated 2.5 million gallons of paint since 2002. It's a partnership we're very proud of, and one we were happy to celebrate last week!"
"We battled the weather a bit last week, but were still able to tackle a majority of the repairs," said Alison Reist, A Brush with Kindness Site Supervisor. "Even with just a few couple of coats of paint up, you could see what a transformation this would be!"
With the work now completed, Glenda and her children can enjoy the safety and stability of their newly painted and repaired home.