PCL Construction Services, Inc. (PCL) has been a national partner with Habitat for Humanity International since June of 2011. As part of this partnership, local PCL branches are able to apply for funding from the corporate office to sponsor local Habitat projects.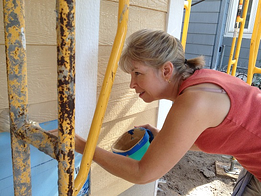 The Minneapolis branch of PCL Construction Services, Inc. has been a Twin Cities Habitat for Humanity partner for the past three years. They've provided financial sponsorship as well as volunteer support for three homes in the Twin Cities; one in Minneapolis and two in St. Paul.
"PCL is a valued partner of Habitat, both nationally and here in the Twin Cities," said Kate Loe, Director of Donor and Volunteer Development at Twin Cities Habitat. "Locally, PCL has sponsored three Habitat homes. These homes now serve as the foundation for hard-working, low-income families to succeed. We applaud PCL for their commitment to the community and we look forward to our continued partnership."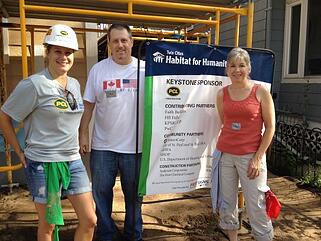 In mid- August, PCL volunteers helped cover the insulation on the second floor of the home and paint the siding on the front of the home. Other volunteers helped out in the basement, digging out dirt for the basement egress window.
"The team from PCL were amazing volunteers!" said Melissa Steiner, the Site Supervisor on the home. "We had the opportunity to work on many different interior and exterior projects through out the week. I got the sense that they felt their co-workers that didn't come were truly missing out and would be jealous. Anytime I can work with a group that is as excited and hard working as PCL it makes my week that much more enjoyable. I look forward to working with them again soon!"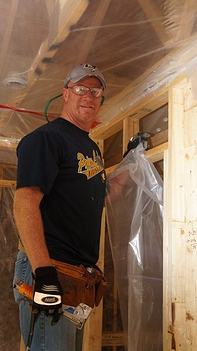 The house being built at 675 LaFond Ave will become the new home of the Ibrahim family. Naima Ibrahim is a single mother of four children ranging from one to six years old (Lensa, Reyyan, Turay, and Mustagem), and her younger sister, Tamima, will also be living with the family. Naima is originally from Ethiopia and can speak three different languages: Oromo, Amharic, and English. The Ibrahim family enjoys reading books and spending time with each other. Naima is a hard worker and eager to be a homeowner!
Although PCL is a global company, they've performed a lot of work in the Twin Cities, and are committed to serving the local community. A few of their projects include the Mall of America, Minneapolis Central Library, and the Science Museum of Minnesota.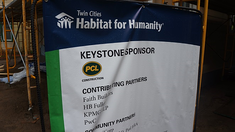 "PCL is especially excited about our new Habitat House in St. Paul this year," said John Jensvold, PCL's Director of Project Development. "We have a strong association with Habitat nationally, but locally our Twin Cities staff love to show up and perform the work themselves. In truth, we get as much out of it as anyone, with the sole exception of the new homeowner. Thanks Habitat for Humanity!"