This summer, Twin Cities Habitat held a Homeowner Photo Contest for Habitat homeowners. Matias and Camila were the first-place winners. They purchased their home on the open market. This is their story.
---
Many families in the Twin Cities are looking for the stability of owning a home but might assume that due to their income they won't be eligible for programs that could help make homeownership possible. This was true for homeowners Camila and Matias, who purchased a home through Twin Cities Habitat for Humanity's Homeownership Program in 2019. "Usually we don't qualify for a lot of [affordability] programs," Camila said. "We make too little to be wealthy co-op buyers who travel all the time, but we have too much money to be in those programs."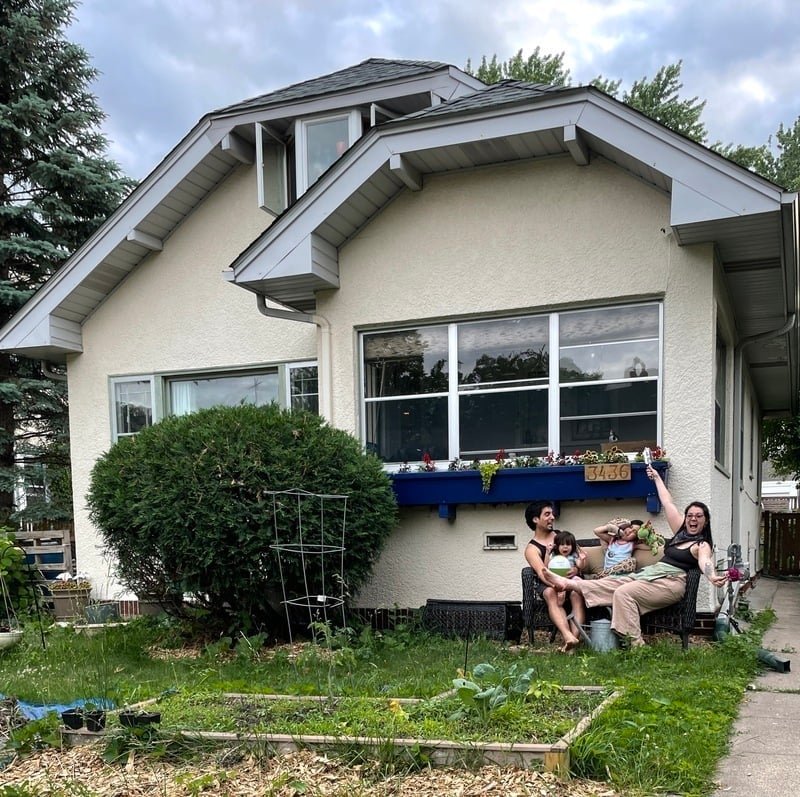 Twin Cities Habitat isn't always the first organization to spring to mind for people who are looking for a home, but luckily, Matias and Camila heard about the program from a couple of different people who made them realize it was a possible route for them.
"We were already looking to purchase a home," Matias said, "but we weren't sure how to go about it. We didn't have enough money to go the regular route. We could have gone through the FHA, or a land trust was another option. We were looking at a couple different options. A coworker said that she got her home with Habitat, but I hadn't looked into it very much. But when Camila's [dog grooming] client mentioned it, we really started looking into it."
While they were living in an apartment in the Powderhorn neighborhood in Minneapolis, Camila worked as a dog groomer. One day they were walking around the neighborhood and saw a dog that would help lead them to Habitat's program.
"I saw this dog and I knew the breed, this Cavalier King Charles Spaniel puppy, and it was so cute and was licking me, and the owners told us, 'This is our first dog.' She happened to work for Habitat for Humanity, and I started grooming her dog. We said, 'We really want to buy a house, we're first-time homebuyers, and we're both from Chile.' She said, 'You would be perfect candidates for this program,' and we were like, 'Okay, let's do it!'"
Once they'd applied, been accepted, and completed their Homebuyer Education classes, Camila and Matias started working with a real estate agent to find a house on the open market.
They knew they wanted to stay in the Powderhorn neighborhood. With only one car, the suburbs didn't make sense when one of them frequently needed to bike instead of drive. They also knew they wanted to live somewhere with plenty of options for groceries within walking distance—their new home is close to a Mexican grocery, an Ecuadorian store, a café, a farmers market, and Lake Street. Camila even grows food in her garden at their home, with things like tomatoes, peppers, green beans, and more providing delicious ingredients for meals for her family and friends.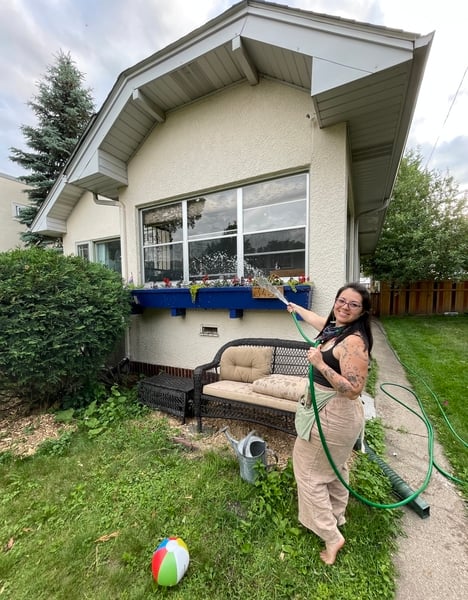 Having a garden wasn't an option in their place prior to homeownership. "We loved our old apartment," said Camila, "but we've had good and bad experiences. The apartment was wonderful, but the landlord was kind of sketchy and we were forced out of there. We were on a month-to-month lease—we were honest about wanting to buy a house and wanted to stay month-to-month, and he seemed okay with it. But then he sold the house and only gave us a month's notice. The people who bought the duplex wanted to live in our unit, and it wound up displacing the family above us, too, because they raised the rent 50%."
Due to the short notice, Matias and Camila didn't have a place to stay, so their family lived in a friend's house for three months. Later, they'd find out Camila was pregnant with her second child while they were living with their friend. Luckily, they found their home in just the second month of living there. Camila said, "On Matias' birthday, I went to look at this house and went 'This is the house!'
"Timing was so lucky in a way, because we lived right by George Floyd Square. We knew from a lot of people that the area, during the uprising, was scary. And having a newborn, and the pandemic…I think it would have made our lives harder, and we would have been more anxious had we stayed in that apartment and not found our house. It was only months away.
"I remember when we first got the keys and we were finally like 'this is our house!' and we came in and walked around it was empty. We were thinking 'we get to stay here, this is ours!'"
The family now has plenty of space for activities and making memories. Camila has a corner of the home for crafting and sewing projects—in their old apartment she'd need to clear off the kitchen table every time she wanted to work on something, but now she has a dedicated space. Matias likes grilling in the backyard. Their son loves drawing and playing sports, and their 2-year-old is currently "obsessed with eggs, egg-shaped things, and rocks" and likes to climb everything. The basement has become a favorite for the kids. "The basement is the 'everything' studio," said Matias. "They have a play area, and in the back there's a climbing area. When kids are visiting, they all want to come to the basement because they can jump and climb. It's the cool basement."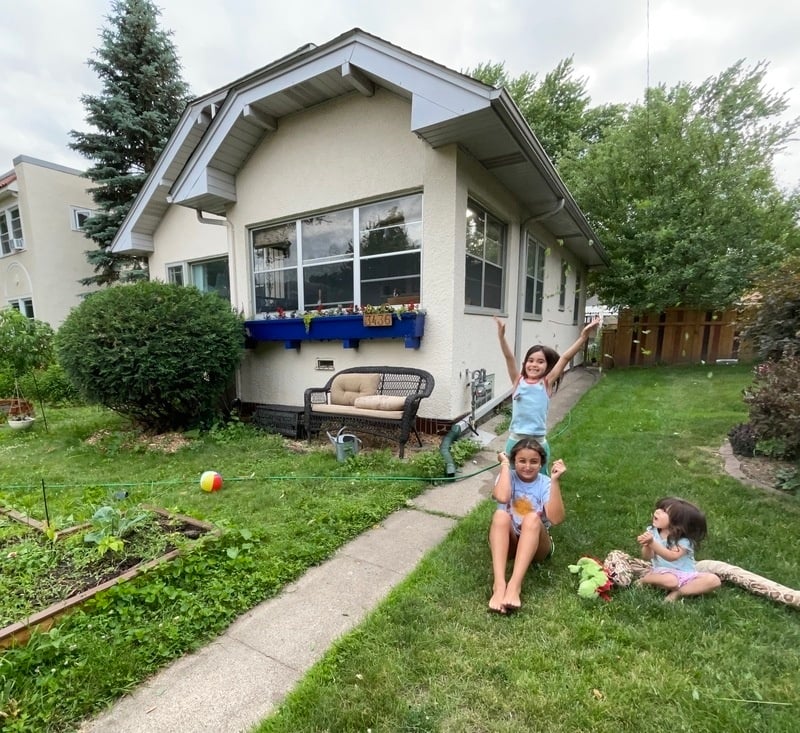 "Having Habitat has helped make all this possible," said Camila. "We both grew up poor. We never had anything extra. I never grew up with a computer, and neither of us grew up in an owned house. My mom was a teacher living in Chile with a schizophrenic mother and an absent father, and she had to grow up really fast and be responsible for three children without my dad. Mom was a single mother and really pushed through and raised us. Matias came from a single-earning household. We came from the idea that you've got to work hard, you've got to push through. Coming to the United States, I lived in poor areas in Florida. Then I came here, and I knew nobody—I came here for work." Both Matias and Camila had moved around a lot and never really had anywhere to plant roots.
Camila said their home "has become a really sacred place just because of the timing in our lives. It's become a place where we've been able to root. And we've already been able to host so many family members and friends who have stayed with us here. I feel like we're a really central point for a lot of people. It feels really special to be able to share that with family, friends, and community members. Matias has done such an amazing job in knowing all of our neighbors. We moved on October 19. I was pregnant, on bedrest, and had been really sick before that. We had a 3-year-old at the time. Then I had our baby, [had complications], and it was the same day the pandemic was announced. Throughout that whole time we persevered. We have this big garden, we have chickens, we accomplished so many big goals and went through so many difficult things, and our children are succeeding. They go to such amazing schools, and overall now we're just doing great and have really great connections with our community and our neighbors. It feels really safe to be home."
For Matias, the house is a result of both a combination of luck and hard work. "This home, for me, is my pride. All the effort that we've put into it. Coming from another country, coming from no money. We worked our way to getting a home, which is kind of the dream, you know. And having our children have a safe place that's consistent—I never had that. My dad always moved around. My identity is tied to that, in the sense that if I have to move I don't care, it doesn't matter much. But also, I kind of wish I'd had the same group of friends for some amount of time—I never had that. So when we bought this home, we wanted a big kitchen because we wanted to have people over. We wanted parties; we wanted to have friends over and be the command center for a lot of activities. To be able to have a place to host. COVID-19 kind of put a break to that, but so far I think we've been able to do that. It really is the hub for the family. It's been good. It's been what we want."
These days, Matias is a Spanish interpreter. Camila works as both a doula for Ninde Doulas to support indigenous mothers and as a breastfeeding peer counselor for Hennepin County WIC, working primarily with immigrant mothers.
"If someone's giving away free baby clothes, I always pick them up and drop them off. Sometimes it takes a long time for me to drop them off to clients who are still pregnant. Habitat has given us the opportunity to be those community members and to give back. After the way we grew up, that feels like success on so many levels. Right now, I'm in school to be an International Board Certified Lactation Consultant, and I received a grant that's paying for all the schooling and the internship that I start in September. Again, none of those things would be possible if we didn't have this root, this center, this place, and it couldn't have happened in a better place in our lives. We just feel really, really lucky."
Matias said Habitat's Homeownership Program helps make homeownership and the ability to plant roots more equitable in the Twin Cities. "It's kind of a small, not equalizer, but it gives you a little bump in socioeconomic status. It definitely helps. I don't know if we would be here without it."