On Thursday February 26th, every Habitat homeowner who has purchased a home in the past 30 years was invited to an annual event at the Minnesota Children's Museum. This was the 7th year we have partnered with the Minnesota Children's Museum to host this event, an event that is consistently well-attended. This year, well over 400 people attended.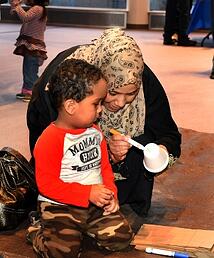 The Children's Museum's mission is to spark children's learning through play. The Children's Museum fulfills its mission by having multiple permanent and visiting exhibits. Some of the permanent exhibits include an "Earth World" exhibit which explores Minnesota's habitats up close, and an exhibit called "Our World" which helps youth discover community and diversity in the world.
The museum has been located in downtown St. Paul for 2 decades, and is planning an expansion. The expansion will help bring more exhibits into the museum, and provide new amenities for visitors.
While the children were exploring the exhibits, their parents were able to use the many resource tables present. The Children's Museum was packed full, with approximately 15 resource tables from around the community.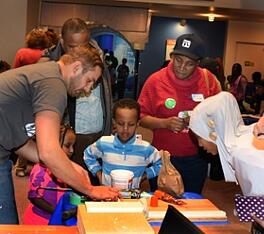 We invited organizations that provide resources on education, home maintenance, financial management, legal questions, and many more. Organizations like Best Prep, Family Means, CREE and Volunteers Lawyers Network all had resource tables available for homeowners to visit. At the tables families learned more about the different organizations and what services they offer.
Organizations were encouraged to have an activity at their tables. Some of the activities included a board game, crafts, and face painting. There was also a book reading and photo booth where families were able to take a free family portrait.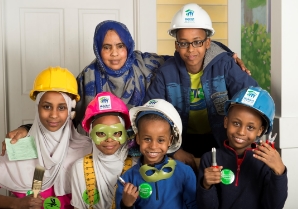 Families that attended the event were offered a chance to sign up for a one year free membership to the Children's Museum. Both the homeowners as well as the resource booths found the opportunities to meet with one another very beneficial. Families were also provided with a free dinner from a local restaurant, Afro Deli.
It's great to see all the Habitat families together in one place, having fun, learning, and connecting with each other.