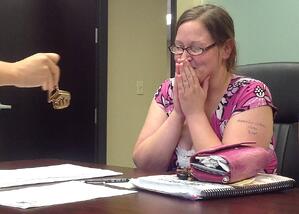 Congratulations, you're a homeowner!
You paid your down payment, signed on the dotted lines, and are now holding the keys to your very own home. But now what do you do? Can you move in right away? Should you move in right away? You followed a lot of steps to become a homeowner, but there are a few final steps to take before you can sit back, relax, and enjoy homeownership.
Note: You don't have to complete any of these before moving your belongings into your home if you don't want to (although it may be easier for painting and floor installation). In fact, it's safest to occupy your new home as soon as possible to prevent crime.
Make copies of all your closing documents.
Make sure to keep copies of your mortgage closing documents in a safe place. Do you have a safety deposit box or fireproof file box? If not, it might be a good time to get one. But don't just keep a paper form. Scan your documents (if don't have a scanner, use a mobile app like Adobe Scan or going to your local library) and store them on a secure cloud-based site like Google Drive or Dropbox. That way if something happens to your paper copy, you have backup electronic copies and vice versa.
Homestead your property with the county.
When it comes to taxes, you want to save as much as possible, so it's a good idea to homestead your property. What does homesteading a property mean?Homesteading informs the county that you are living in the home as your primary residence, because it is your primary residence the county will charge you less in property taxes. It is not required, but it is beneficial for homeowners. If you live in the seven-county metro — Anoka, Carver, Dakota, Hennepin, Ramsey, Scott, or Washington — and have questions about the homesteading process, ask your officials.
Be ready for the first mortgage payment.
Your first mortgage payment will be due on the first day of the second month after closing. For example, if you closed on your house Aug. 20, your first mortgage payment would be due Oct. 1. Make sure to add your mortgage payment to your bank's online auto-pay service, sign up for auto-pay with your lender or mark it on your calendar.
Change the locks.
Safety is key when you own a home. Change or re-key all locks on the house and garage as soon as possible. Change keypad and garage door opener codes, too. If the seller didn't leave this information, you can find instructions online. The sooner you do this, the more peace of mind you'll have.
Schedule utility start dates.
Call all utility companies — gas, electric, waste, recycle, cable/satellite, internet — and schedule service start dates (This should be the day you closed). Ask about regular charges and any special fees. Add utility payments to your bank's online auto-pay service to ensure that payments are sent on time.
Send out a change of address card.
Update your driver's license or state ID with your new address. Then, fill out the United States Postal Service Change of Address card. You can do this at any post office or online.
It's also important to contact people you deal with regularly to tell them that you've moved. Include:
Credit Card companies
Bank
Friends and Family
Employer
Insurance companies: medical; car; home
Utilities: phone; internet; cable; gas; garbage; etc.
Schools
Subscriptions: newspapers; magazines; home delivery services
Memberships
Make a home maintenance calendar.

Any and all home maintenance is now your responsibility. Don't waste too much time before buying the essentials like a lawn mower, rake, shovel, garden hose, etc. This will help you stay on top of the new responsibilities of home ownership. Make a maintenance calendar to keep your house in excellent condition. Here are a few suggestions.
Weekly: trash and recycling pick-up; yard maintenance; etc.
Monthly: check for plumbing leaks; check water heater; clean gutters; check exterior drainage and any tree limbs near the roof; check shingles; etc.
Seasonally: change furnace and AC filters; maintain lawn mower and snow blower; clean chimney; test smoke detectors; etc. Find a template online at or use a free app like Maintenance Reminder.
Freshen up the house.
You'll likely want to move into a clean house. Chances are the previous homeowners cleaned it before putting it on the market, but it's been several days/weeks/months since then. And a home could always use a good deep clean. Take a few days to clean your home room by room or hire someone to do it for you.
If there's a room painted an unpleasant hue or the walls just look like they could use a fresh coat of paint, it may be best to do this before you move your furniture in. That way you don't have to cover everything with plastic. Same goes if you want to install new carpet or hardwood floors.
Introduce yourself to your neighbors.
It's never too early to get to know your neighbors. Take a few minutes to introduce yourself if you see someone working in the yard, grabbing the mail, or out for a walk. Neighbors who know each other have a stronger sense of community, which can make your neighborhood safe, comfortable, and welcoming.
Now that your house is clean, your billing is in order, and your home is secure, take a moment to enjoy being a homeowner. You deserve it!