To celebrate National Homeownership Month, we're sharing educational resources for homebuyers and homeowners written by some of our closest partners. This post was provided by Andersen Corporation, which has contributed more than $2.3 million in donations and materials to Twin Cities Habitat for Humanity since 1989.
General Window & Door Safety
Window safety is one of the key things to keep in mind as a homeowner. Everyone in a home can be affected by issues that could easily be prevented with our helpful tips, so read through our tips and make sure you are prepared!

Safety Glass
Choose safety glass, such as tempered glass, as an extra precaution for windows and doors in potentially hazardous locations. Upon impact, safety glass breaks into small pieces rather than large, sharp pieces.
Ladder Safety
Do not stand on sofas or beds or place ladders and scaffolding against windows, patio doors, or storm doors when making repairs. Make sure ladders are placed on level surfaces to avoid falling against the glass.
Broken Glass
Many injuries occur when broken glass is mishandled during repairs. If making the repair yourself, follow the manufacturer's instructions for unpacking and safe installation of the replacement piece or unit. Wear gloves when handling broken glass.
Repair Broken Parts
Repair broken sash, sash locks, balances, and operating parts as soon as possible. Without these parts in proper working order, injuries can occur during operation, and, in the event of an emergency, escape could be difficult or impossible.
Don't Paint Shut
Don't paint, nail, or weatherstrip windows shut. You must be able to open them in an emergency.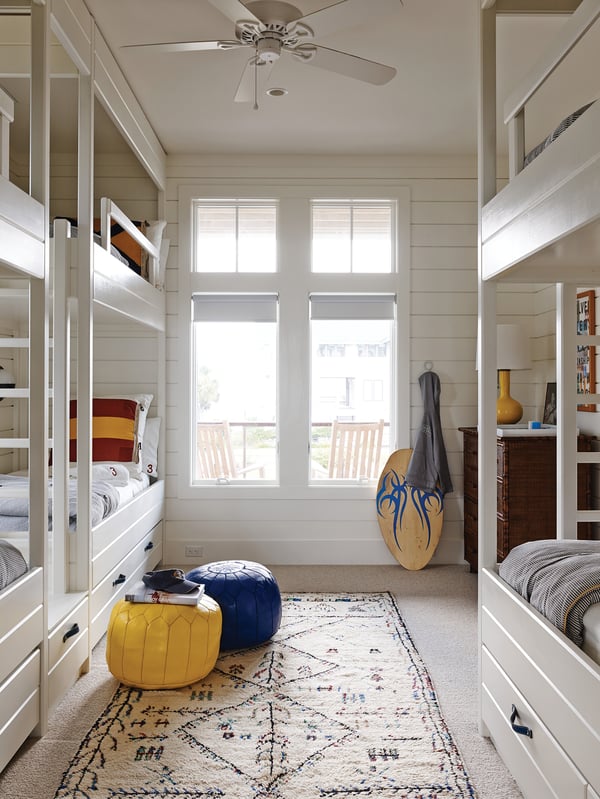 Keep Them Locked
As a security precaution, keep windows and doors closed and locked to discourage intruders. An open window or door can be an invitation to theft.
Out of Reach
If you need ventilation, open windows that children can't reach. Children can quickly climb to window ledges or sills and fall. Don't leave your children unsupervised.
Furniture Placement
Don't position beds and other furniture under windows. Children can use the furniture to climb to an open window and potentially fall.
Screen Safety
Do not depend on insect screens to prevent falls. They are designed to provide ventilation and to keep insects out.
Limit Openings
Consider installing window opening control devices or window guards that comply with local building codes. When properly installed, these devices will limit the window sash to less than a four-inch opening. These devices have easy-release mechanisms so they can be disengaged to allow the window to fully open if needed for an emergency escape or rescue.
Look Outside
Plant shrubs and soft edging like wood chips or grass beneath windows to provide a cushion in the event of a fall. The surface can greatly affect the degree of the injury sustained from a fall.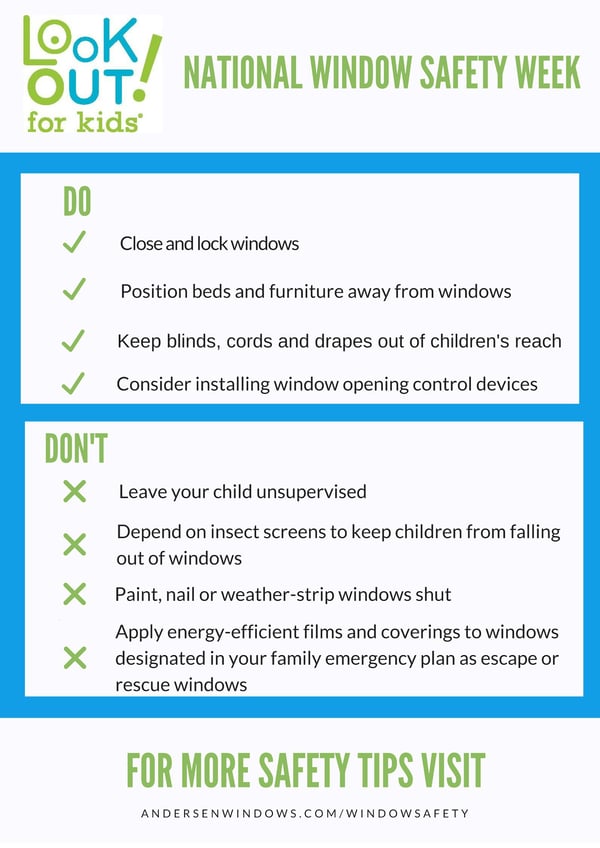 About Andersen Corporation
Headquartered in Bayport, Minnesota, Andersen Corporation and its subsidiaries manufacture and market window and door products under the Andersen®, Renewal by Andersen®, EMCO®, Weiland®, MQ™ and Heritage™ brands. Andersen, a privately held company, was founded in 1903 and employs more than 8,000 people with manufacturing sites in North America and Europe. Andersen has earned the U.S. Environmental Protection Agency's 2019 ENERGY STAR® Partner of the Year – Sustained Excellence Award. Visit us at andersenwindows.com.
Follow us on Facebook @AndersenWindows, Twitter @AndersenWindows, and Instagram @andersen_windows.
"ENERGY STAR" is a registered trademark of the U.S. Environmental Protection Agency. "Andersen" and all other marks where denoted are trademarks of Andersen Corporation and its subsidiaries.